Skip to content
Skip to navigation menu
Linear Stepper Motors

MOONS' hybrid stepper motor linear actuator are the darlings of the Robotics world. Our advanced manufacturing methods create an integrated screw and motor combination with less parts than the traditional lead screw option. The integrated screw replaces the shaft and removes the need for external coupling mechanisms.

MOONS' product range includes stepper motor linear actuators in five versions and five sizes. Thanks to their special stator geometry and optimized magnet materials, the MOONS' actuators generate more force than comparable actuators.

Another feature that makes these motor combinations unique is the patented Constant Force Nut Technology that provides superior backlash compensation and constant radial force. Once again our technology is helping our clients move in better ways.
Features
• Extremely reliable stepper motors
• Patented Constant Force Nut Technology
• Great lead screw technology
• Offer online configurator for our most popular linear stepper motor.
Download
LE Series Family Brochure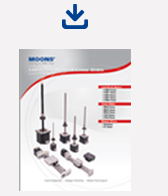 BE Series Family Brochure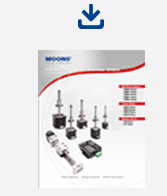 NEMA14 Non-captive Hybrid Linear Stepper Motors
NEMA14, Non-captive linear stepper motor actuators, High performance, Exceptional endurance, Low noise, Highly effective. Multiple options: different size of motors, different types of leadscrews, different types of nuts.
Show more