Products Launch Center
Based on our deep understanding of the market, MOONS' continuously brings the world a variety of innovative products, which are excellent in both design and quality.The Products Launch Center is composed of 3 main parts - Soft Launch Corner, Featured Products Center, and Miniature Motion Control Corner.
Soft Launch Corner
In our Soft Launch Corner, you will have a preview at upcoming products before standard product commercialization. During soft launch period, you are welcome to send us any feedback about our soft launch product, even the benchmarking results with any of our competitors. At the same time, we also accept new product reservation so that you are the first to get sample as soon as our soft launch product are available.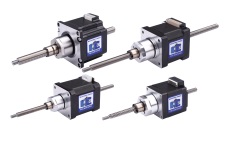 New Design Non-captive Linear Stepper Motor
• Available motor size include NEMA11,14,17,23

• Innovation patent: External Anti-backlash nuts type

• High repeatability: ±0.02mm

• PTFE Coating available

• Multiple motor lengths and special PowerPlus motor available
Read More

Featured Products Center
Find the complete list of all MOONS' new product press release in history here. For each new product, you will have a clear idea about our product design with detailed introduction. Besids, we also provide you the quick link for purchasing online directly.