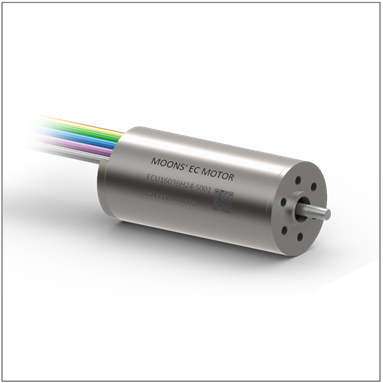 Φ16mm Slotless BLDC
Ø16mm * L36mm, Ironless winding, Brushless design. For more detailed info on Slotless BLDC,
visit our products category pages - Slotless Brushless DC Motors
● High power density, 12W output power by Ø16*L36 size.
● Wide running range, max speed up to 40,000 rpm.
● Up to 25% smaller speed/torque gradient improve.
● 30% lower temperature rising than current product.
Quote a Standard/Specialty/Customized Motor
Features
Data Sheet
Dimension
High Power Density

Comparing with same size but different type motors, BLDC slotless has more power density than others. With 7.24cm3 volume, ECU16 motor can deliver near 12W power.

Wide Operating Range

We extend the operating range of motors by optimized electromagnetic and mechanical design.

Smaller Speed/Torque Gradient

Smaller speed/torque gradient means more powerful motor, comparing with competitor, MOONS' ECU16 motors have 15% - 25% improvement .

Performance Advantage

For same output power, MOONS' have less loss than competitor, At the no load condition, MOONS' have 33% lower temperature rising than competitor.
Preliminary Version

Motor Data
Part Numbers
Parameter
Unit
ECU16036H09
ECU16036H12
ECU16036H18
ECU16036H24
ECU16036H36
Nominal voltage
V
9
12
18
24
36
No load speed
rpm
17200
16000
17200
16200
17200
No load current
mA
173
113
96
64
50
Rated speed
rpm
12865
11766
13073
12046
13146
Rated torque
mNm
8.03
8.29
8.30
8.18
8.41
Rated current
A
1.88
1.28
0.97
0.62
0.49
Stall torque
mNm
29.0
27.4
31.6
26.5
29.0
Stall current
A
7.20
4.50
3.82
2.09
1.74
Max efficiency
%
79
80
80
80
80
Terminal resistance (phase-phase)
Ohm
1.25
2.70
4.70
11.50
18.40
Terminal inductance (phase-phase)
mH
0.032
0.079
0.130
0.310
0.550
Torque constant
mNm / A
4.7
7.1
9.5
14.7
19.1
Speed constant
rpm / V
2030
1340
1000
650
500
Speed/torque gradient
rpm / mNm
540
511
497
508
482
Mechanical time constant
ms
5.75
5.51
5.18
5.36
4.95

Specification

| | | |
| --- | --- | --- |
| Parameter | Unit | Value |
| Max speed | rpm | 40000 |
| Rotor inertia | gcm2 | 0.7 |
| Number of pole pairs | | 1 |
| Ambient temperature | °C | -40~+100 |
| Max winding temperature | °C | 155 |
| Thermal resistance | | |
| Housing - Ambient | °C / W | 18 |
| Winding - Housing | °C / W | 1.5 |
| Thermal time constant | | |
| Motor | s | 430 |
| Winding | s | 1 |
| Max axial load | N | 1 |
| Max radial load | N | 6 |
| Weight | g | 52 |
Mechanical Dimensions:mm