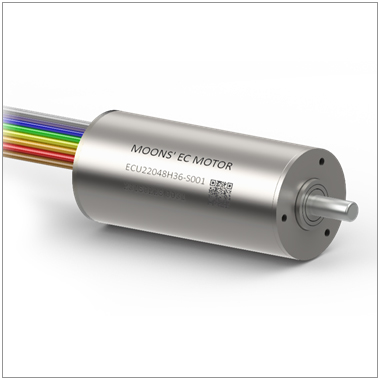 New Φ22mm Slotless BLDC– ECU22 series
Ø22mm * L48mm, 18000rpm, 35w, Long life design
● Improving life time 35% comparing to existing product
● Aim to meet modern industry demand by increasing speed to 18000rpm level
● Rated output power up to 35w
● Keep the better temperature rising
Quote a Standard/Specialty/Customized Motor
Features
Data Sheet
Dimension
Speed
Torque Curve
Description

Segment by running speed, slotless BLDC motors are typically divided into 3 ranges, including low speed(<10000rpm), medium speed(10000~40000rpm) and high speed(>70000rpm). In most cases, low-speed motors are used in the industrial sector, while medium- speed and high-speed motors are frequently used in the biochemical and medical field. New ECU22 series slotless BLDC motors launched by MOONS' aim to meet modern industry demand by increasing speed to 18000rpm level and improving life time 35% comparing to existing product.

Features

By optimizing electromagnetic design and using new materials, MOONS' enables users to obtain better product experience.

MOONS' ECU22 motors have greatly improved the running speed to 18000rpm and rated output power to 35w, which are more suitable for the higher speed and power requirements of today's industrial automation. We also keep the better temperature rising at 18000rpm running status.

At the same time, considering the long-term and heavy-duty application scenarios in industrial production, ECU22 series has specifically upgraded the bearing system, use the high speed and high load capacity ball bearing, to improve our motor operating life by more than 35%.

MOONS' is constantly committed to the development of new products and provides customers with more performance value experience at the same cost. We have been developing new medium and high-speed slotless product, with the same design idea, we will provide more performance advantage comparing to existing market product.
Preliminary Version

Motor Data
Part Numbers
Parameter
Unit
ECU22048H18
ECU22048H24
ECU22048H36
ECU22048H48
Nominal voltage
V
18
24
36
48
No load speed
rpm
18000
18000
19500
18000
No load current
mA
290
250
230
174
Rated speed
rpm
15900
15100
15500
15600
Rated torque
mNm
21.5
23.00
23.00
23.00
Rated current
A
2.25
1.81
1.23
0.90
Stall torque
mNm
180.1
141.5
212.8
170.6
Stall current
A
18.8
11.1
11.8
6.7
Max efficiency
%
82
80
82
80
Terminal resistance (phase-phase)
Ohm
0.96
2.16
3.05
7.17
Terminal inductance (phase-phase)
mH
0.063
0.094
0.250
0.444
Torque constant
mNm / A
9.55
12.74
18.03
25.48
Speed constant
rpm / V
1000
750
530
375
Speed/torque gradient
rpm / mNm
100
127
92
106
Mechanical time constant
ms
4.04
5.14
3.62
4.26

Specification

| | | |
| --- | --- | --- |
| Parameter | Unit | Value |
| Max speed | rpm | 40000 |
| Rotor inertia | gcm2 | 3.860 |
| Number of pole pairs | | 1 |
| Ambient temperature | °C | -40~+100 |
| Max winding temperature | °C | 155 |
| Thermal resistance | | |
| Housing - Ambient | °C / W | 10.2 |
| Winding - Housing | °C / W | 1 |
| Thermal time constant | | |
| Motor | s | 600 |
| Winding | s | 2 |
| Max axial load | N | 3.5 |
| Max radial load | N | 16 |
| Weight | g | 98 |
Mechanical Dimensions:mm

Connection(Cable AWG 24)

| | | |
| --- | --- | --- |
| Cable No. | SIgnal | Color |
| 1 | Motor winding 1 | brown |
| 2 | Motor winding 2 | red |
| 3 | Motor winding 3 | orange |
| 4 | Vhall4.5-24VDC | yellow |
| 5 | GND | green |
| 6 | Hall IC 1 | blue |
| 7 | Hall IC 2 | violet |
| 8 | Hall IC 3 | grey |