Skip to content
Skip to navigation menu
ID

NEMA 23 Integrated Step-Servo Motors

Based on the rich experience of TSM integrated step-servo, MOONS' once again successfully melt servo control technology into a stepper motor, revolutionary create a separate motor & driver package solution – SS with ultimate performance. Motor frame sizes available is Nema23. SS provides more intelligent combination of flexible, contribute to a more wider range of applications.
● Multi-axis field bus control
● Intelligent built-in controller
● Compact all-in-one solution
● Efficient, smooth, accurate, fast
● Enhanced motor, optimized design
Price:
USD 392.0

-

631.0 EA
Free shipping to North America and Europe for orders of $100 or more
Buyer Protection:
Free Exchange
if the item has quality problems within 1 year.
Learn more
Description
The Step Servo is an innovative revolution for the world of stepping motor, it enhances the stepping motor with servo technology to create a product with exceptional feature and broad capability.TSM is MOONS' 3rd generation integrated step-servo and compact motor+drive+encoder+controller all-in-one solution. With improved technology, TSM upgrades significant key features based on 2nd generation SSM and operates more efficiently and intelligently.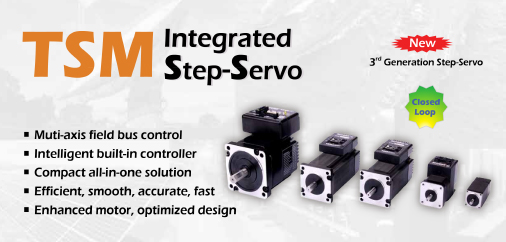 Features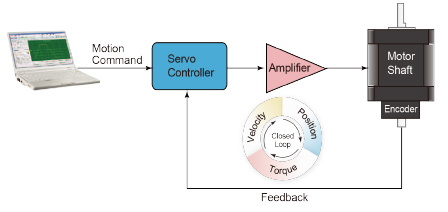 Closed Loop·Very tight position and velocity control for the most demanding applications
·Robust servo loops that tolerate wide fluctuations in load inertia and frictional loading.
·The TSM17/23/24/34 achieve precise positioning to within ±1 count (0.018°) using a high resolution (20000 counts/rev) encoder
·The TSM11 achieves precise positioning to within ±1 count (0.2°) using a high resolution (4096 counts/rev) encoder.
Easy Tuning ·Pre-defined tuning parameters for maximum control performance and stability.
·Easy selection list provides the level of control desired.
·In most cases NO extra manual tuning is required.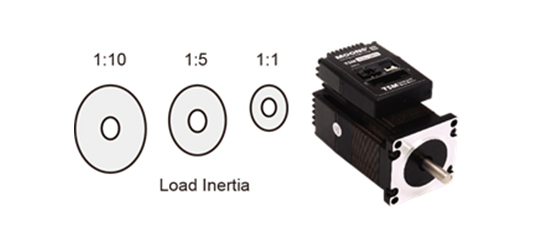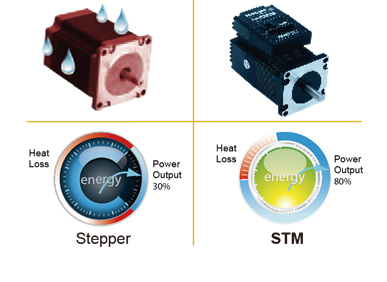 Lower Heating/High Efficiency·Uses only the current required by the application, generating minimum heat output.
·When stand-still, current can reach nearly zero for extremely low heat output.
·Being able to use almost 100% of torque, allows for more efficient and compact motor usage.
Smooth & Accurate·Space vector current control with 5000 line high resolution encoder, gives smooth and quiet operation, especially at low speeds.
------A feature never found with traditional stepper motors
·High stiffness due to the nature of the stepper motor combined with the highly responsive servo control
------Accurate position control both while running and static positioning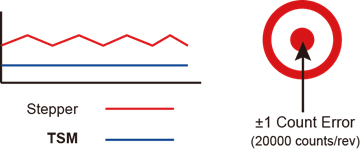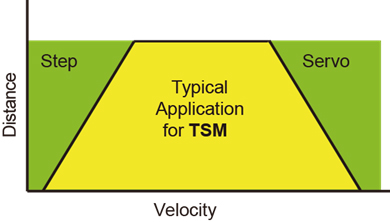 Fast Response
When performing fast point-to-point moves, the high torque output and advanced servo control provides a very responsive system far exceeding what can be done with a conventional stepper system.
High Torque·Because the SSM operates in full servo mode, all the available torque of the motor can be used. The motor can provide as much as 50% more torque in many applications. High torque capability often eliminates the need for gear reduction.
·Boost torque capability can provide as much as 50% more torque for short, quick moves.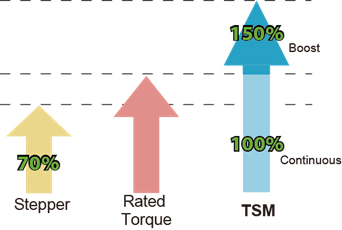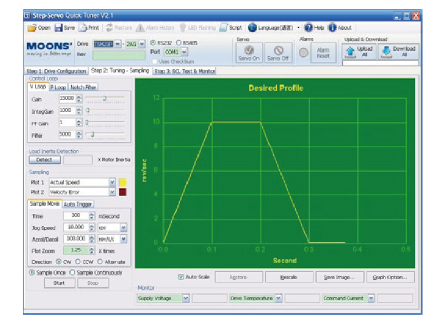 Motion Monitoring·For difficult control situations where performing a precise move is necessary, the Step-Setvo Quick Tuner provide an easy to use interface for performing and monitoring the motion profile
·Many common parameters such as Actual Speed or Position Error can be monitored to evaluate system performance
·The monitoring is interactive with the servo tuning capability so that optimum performance can be achieved.
Key Enhancement based on SSM family·Up to 8 digital inputs, 4 digital outputs and 1 analog input for S/Q/C types ( TSM17/23/24/34 only )
·A/B/Z differential encoder signal output supported for P type ( TSM17/23/24/34 only )
·Automatic load inertia detection
·On board daisy chain connection for field bus control (RS-485, Modbus/RTU, CANopen, TSM17/23/24/34 only)
·On board daisy chain over Ethernet ( TSM34 only )
·Multiple homing features for S/Q types
·Software limit for S/Q types
·Auxiliary power input for Keep Alive function (TSM34 only)
Model Numbering System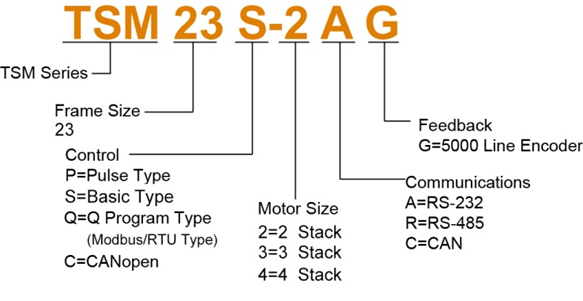 Model
Torque
Control
I/O(*)
RS-232
RS-485/422
Modbus/RTU
CANopen
TSM23P-2AG
1.0N·m
P
4DI,3DO,EO
√
TSM23S-2AG
S
8DI,4DO,1AI,EO
√
TSM23S-2RG
√
TSM23Q-2AG
Q
√
√
TSM23Q-2RG
√
√
TSM23C-2CG
C
8DI,4DO,1AI
√
√
TSM23P-3AG
1.5N·m
P
4DI,3DO,EO
√
TSM23S-3AG
S
8DI,4DO,1AI,EO
√
TSM23S-3RG
√
TSM23Q-3AG
Q
√
TSM23Q-3RG
√
√
TSM23C-3CG
C
8DI,4DO,1AI
√
√
TSM23P-4AG
2.5N·m
P
4DI,3DO,EO
√
TSM23S-4AG
S
8DI,4DO,1AI,EO
√
TSM23S-4RG
√
TSM23Q-4AG
Q
√
√
TSM23Q-4RG
√
√
TSM23C-4CG
C
8DI,4DO,1AI
√
√
Power Amplifier
Amplifier Type
Dual H-Bridge, 4 Quadrant
Current Control
4 state PWM at 20 KHz
Output Torque
TSM23C-2CG: Up to 1.0N•m Continuous(1.3 N•m Boost)
TSM23C-3CG: Up to 1.5N•m Continuous(2.0 N•m Boost)
Power Supply
External 12 - 70 VDC power supply required
Protection
Over-voltage, under-voltage, over-temp, motor/wiring shorts (phase-to-phase, phase-toground)
Controller
Electronic Gearing
Software selectable from 200 to 51200 steps/rev in increments of 2 steps/rev
Encoder Resolution
20000 counts/rev
Speed Range
Up to 3600rpm
Filters
Digital input noise filter, Smoothing filter, PID filter, Notch filter
Non-Volatile Storage
Configurations are saved in FLASH memory on-board the DSP
Modes of Operation
CANopen slave node plus stored Q Program execution
Digital Inputs
Digital Inputs Adjustable bandwidth digital noise rejection filter on all inputs
X1/X2/X7/X8: Optically isolated, 5-24 volt differential or single-ended input, Minimum pulse width = 100 μs, Maximum pulse frequency = 5 KHz
Function: general purpose input, or CW/CCW Limit input
X3/X4X5/X6 : Optically isolated, 5-24 volt single-ended input, Minimum pulse width = 100 μs, Maximum pulse frequeny = 5 KHz
Function: Servo on/off, Alarm/Fault Reset, or general purpose input
Digital Output
Y1/Y2/Y3/Y4: Optically isolated, 30V/100mA max Open Collector Output.
Function: Alarm/Fault, In Position(dynamic/static), Brake Control, Tach out, Timing out, or
general purpose usage
Communication
Interface
CANopen & RS-232
Physical
Ambilent Temperature
0 to 40°C (32 to 104°F) When mounted to a suitable heatsink
Humdity
90% Max., non-condensing
Mass
TSM23C-2CG: 850 g
TSM23C-3CG: 1200 g
Rotor Inertia
TSM23C-2CG:260 g•cm2
TSM23C-3CG:460 g•cm2

Delivery & Packaging
Ensure your ordered products are always safely packaged from easy click to fast delivery to your hands
Professional Product Label
Considering all possible harsh application environments, MOONS' specially designed labels for each product, which pass water-resistance test, durability rub test, high temperature resistance and corrosion resistance tests.

Besides, our product labels are attached with QR code linking to product details, which is convenient for clients to view the detail product page with their mobile phones.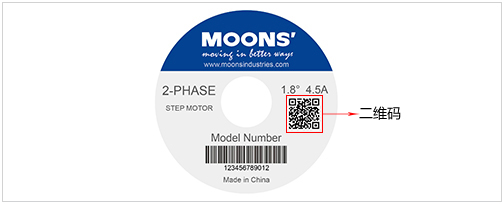 Note: This label design is suitable for products of stepper motor.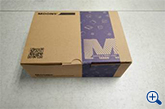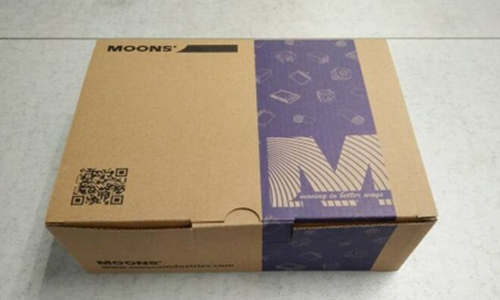 (Professional packing box and unique appearance design)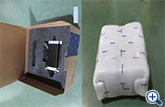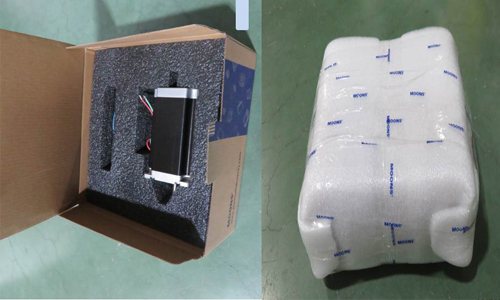 (Single item packed with EPE)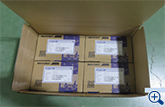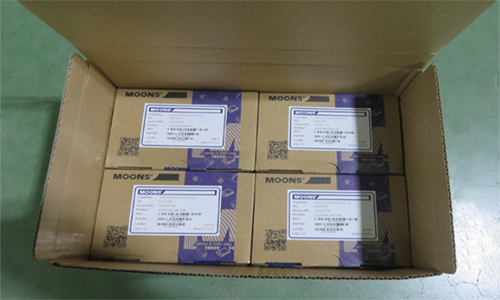 (Multi-products packed with another box)
Safely Packaging
In order to ensure your shipments withstand the long trip and arrive safely and intact, MOONS' specially designed Individual package to pass the drop test with its stable structure.
Besides,the package is made from recyclable materials, providing you with professional safety delivery.
Whether just single item or multi-products the clients buy, all products are packed twice to avoid the damage further.
Shipping Visualization
For each case, products are carefully packed by experienced warehouse staff and the key processes are recorded by photos, which are then posted on our website, so that clients could clearly know the packing process and logistics status after placing order.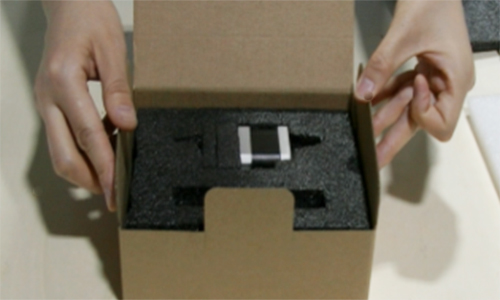 (Product in the box)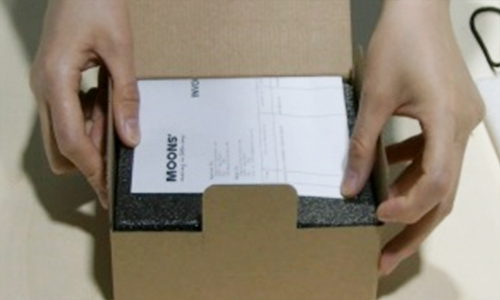 (Add the invoice)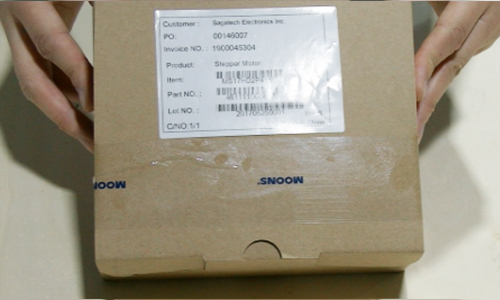 (Label the commodity)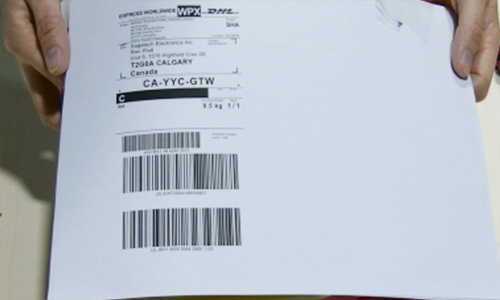 (The logistics waybill attached)

Fast Delivery
Fast Cross-Border Delivery
MOONS' chooses DHL as our main international express shipping partner. As the world's leading logistics specialist, DHL provides our customers with fast and professional inter- national door-to-door delivery service.
Estimated Delivery Time: e.g. China-USA major cities 3 business days.
Professional
Warehouse Management
MOONS' has an experienced warehouse management team, all products and materials are clearly classified and neatly arranged.