Skip to content
Skip to navigation menu
ID

STM11 Series Integrated Stepper Motors

The STM11 is a integrated motors combines motor+drive+encoder into one device. It supports RS232, RS485 and CANopen, and MOONS' Q programmer control mode. External switch such as position limit, joystick are also supported.
● Anti-Resonance
● Torque Ripple Smoothing
● Microstep Emulation
● Stall Detection and Stall Prevention
● Dynamic Current Control
● Command Signal Smoothing
Price:
USD 391.0

-

456.0 EA
Free shipping to North America and Europe for orders of $100 or more
Buyer Protection:
Free Exchange
if the item has quality problems within 1 year.
Learn more
Description
The STM is an integrated all-in-one solution, fusing step motor and drive technologies into a single device, offering savings on space, wiring and cost over conventional motor and drive solutions.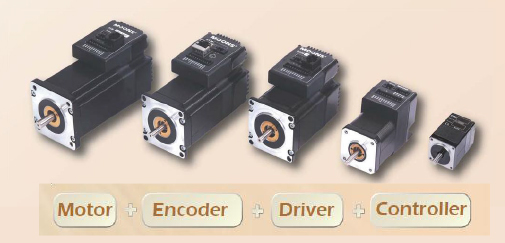 Features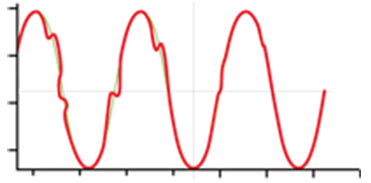 Anti-Resonance
Step motor systems have a natural tendency to resonate at certain speeds.The SR drives automatically calculate the system's natural frequency and apply damping to the control algorithm. This greatly improves midrange stability, allows higher speeds and greater torque utilization, and also improves settling times.
Provides better motor performance and higher speeds
Microstep Emulation
With Microstep Emulation, low resolution systems can still provide smooth motion. The drive can take low resolution step pulses and create fine resolution motion.
Delivers smoother motion in any application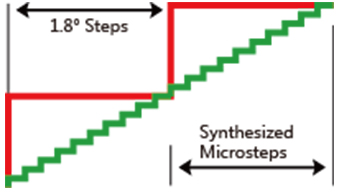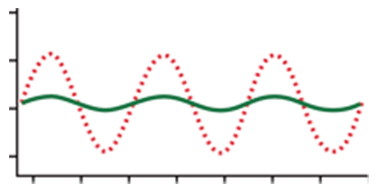 Torque Ripple Smoothing
All step motors have an inherent low speed torque ripple that can affect the motion profile of the motor. By analyzing this torque ripple the system can apply a negative harmonic to counter this effect.
This gives the motor much smoother motion at low speed.
Command Signal Smoothing
Command Signal smoothing can soften the effect of immediate changes in velocity and direction, making the motion of the motor less jerky. An added advantage is that it can reduce the wear on mechanical components.
Improves smoother system performance

Improves smoother system performance
At start-up the drive measures motor parameters, including the resistance and inductance, then uses this information to optimize the system performance.
Dynamic Current Control Running Current - the current the drive will deliver for continuous motion.
Accel Current - the current the drive will deliver when accelerating or decelerating.
Idle Current - reduces current draw when motor is stationary.
Allows for three current settings to help the motor run cooler and reduce power consumption.
Stall Detection & Stall Prevention
The optional encoder detects the rotor's position to provide Stall Detection and Stall Prevention functions.
Control Options


•Step & Direction
•CW & CCW pulse
•A/B quadrature (master encoder)
•Software configuration via communication port


• Software Configuration
• Two Speeds
• Vary speed with analog input
• Joystick compatible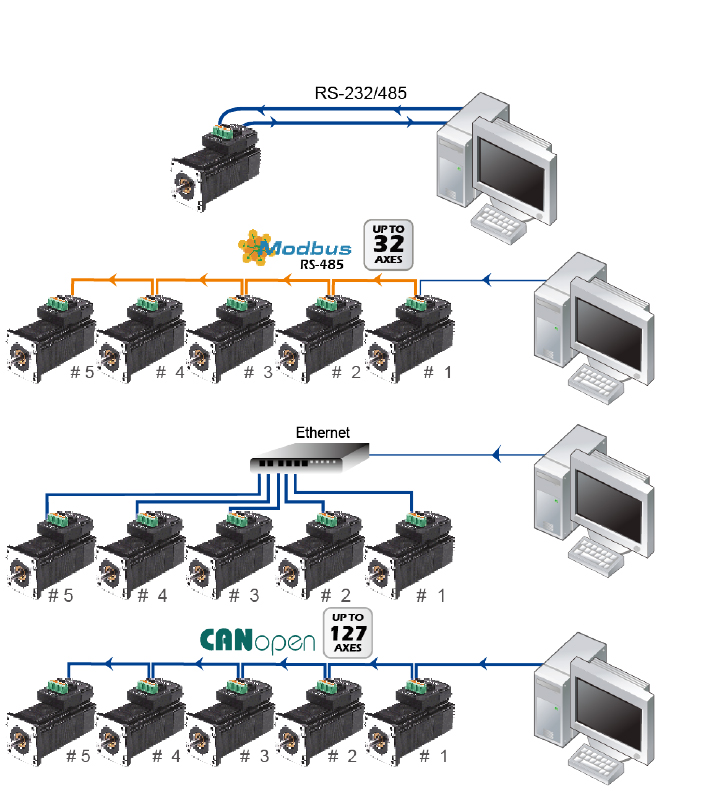 RS-232
• Accepts commands from host PC or PLC
RS-485 or Modbus/RTU
• Accepts commands from host PC or PLC
• Multi-axis capable, up to 32 axes
• Accepts commands from host PC or PLC
• 1000's of axes with Ethernet and Ethernet/IP

• CANopen Model
• Connect to CANopen network
• CiA301 and CiA402 protocols
• Multi-axis capable, up to 127 axes

• Comprehensive text based languaged
• Download, store & execute programs
• High level features: multi-tasking, conditional programming and math functions
• Host interface while executing stored programs
Model Numbering System

Model
Control
Output Torque
Encoder
RS-232
RS-485
STM11S-1RE
S
0.05Nm
√
√
STM11S-2RE
0.08Nm
√
√
STM11S-3RE
0.1Nm
√
√
STM11Q-1RE
Q
0.05Nm
√
√
√
STM11Q-2RE
0.08N·m
√
√
√
STM11Q-3RE
0.1Nm
√
√
√

Delivery & Packaging
Ensure your ordered products are always safely packaged from easy click to fast delivery to your hands
Professional Product Label
Considering all possible harsh application environments, MOONS' specially designed labels for each product, which pass water-resistance test, durability rub test, high temperature resistance and corrosion resistance tests.

Besides, our product labels are attached with QR code linking to product details, which is convenient for clients to view the detail product page with their mobile phones.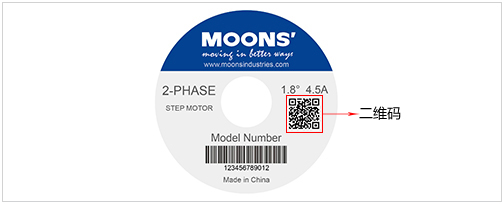 Note: This label design is suitable for products of stepper motor.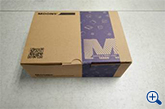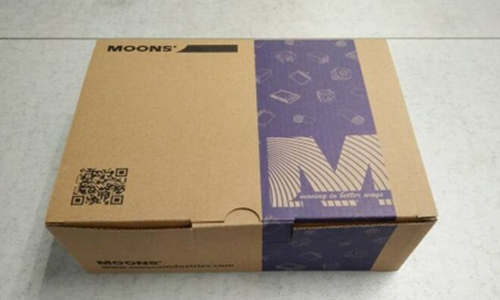 (Professional packing box and unique appearance design)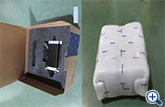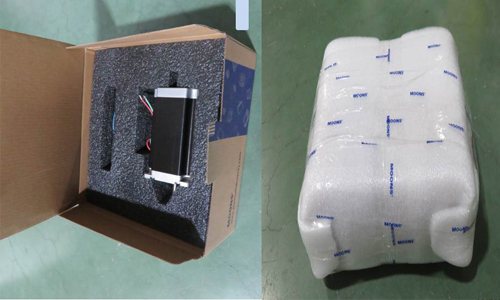 (Single item packed with EPE)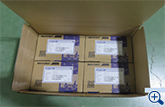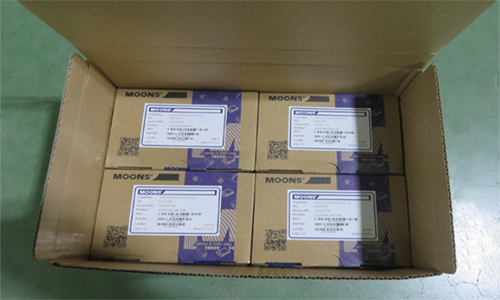 (Multi-products packed with another box)
Safely Packaging
In order to ensure your shipments withstand the long trip and arrive safely and intact, MOONS' specially designed Individual package to pass the drop test with its stable structure.
Besides,the package is made from recyclable materials, providing you with professional safety delivery.
Whether just single item or multi-products the clients buy, all products are packed twice to avoid the damage further.
Shipping Visualization
For each case, products are carefully packed by experienced warehouse staff and the key processes are recorded by photos, which are then posted on our website, so that clients could clearly know the packing process and logistics status after placing order.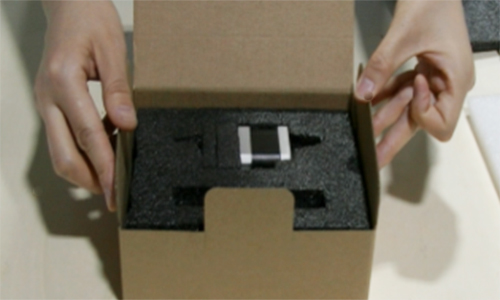 (Product in the box)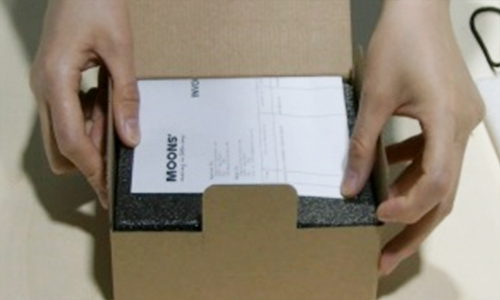 (Add the invoice)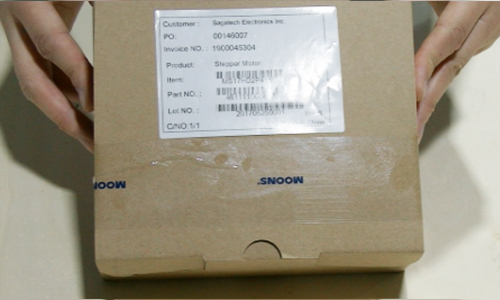 (Label the commodity)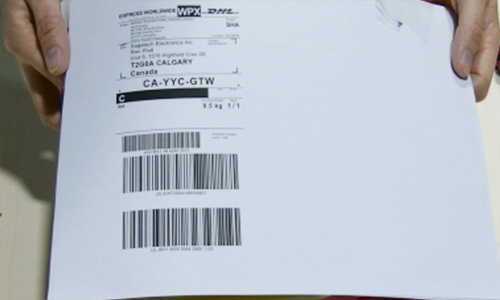 (The logistics waybill attached)

Fast Delivery
Fast Cross-Border Delivery
MOONS' chooses DHL as our main international express shipping partner. As the world's leading logistics specialist, DHL provides our customers with fast and professional inter- national door-to-door delivery service.
Estimated Delivery Time: e.g. China-USA major cities 3 business days.
Professional
Warehouse Management
MOONS' has an experienced warehouse management team, all products and materials are clearly classified and neatly arranged.