Skip to content
Skip to navigation menu
Slotless Brushless DC Motors
Overview
Features & Benefits
Model Numbering
System
Slotless Brushless DC MotorsWith 11 types of winding, theØ13mm series slotless BLDC motors are available in long and short versions with 2 different output powers. MOONS' new micro motions system includes a slotless motor, gearbox, encoder, driver, and mechanical components.

To demonstrate its special performance, we apply it to an automatic screw machine. This motor has a compact design and runs at about 50,000 rpm. The micro motor length is 37.4mm and the holding torque is up to 5.55mNm.

With our ironless winding, we can achieve high torque and power density in such a small package. In the absence of cogging, the operational lifetime is up to 20,000 hours. The encoder can also be used for accurate positioning. For more applications, we also offer 16mm and 22mm series products.
Structure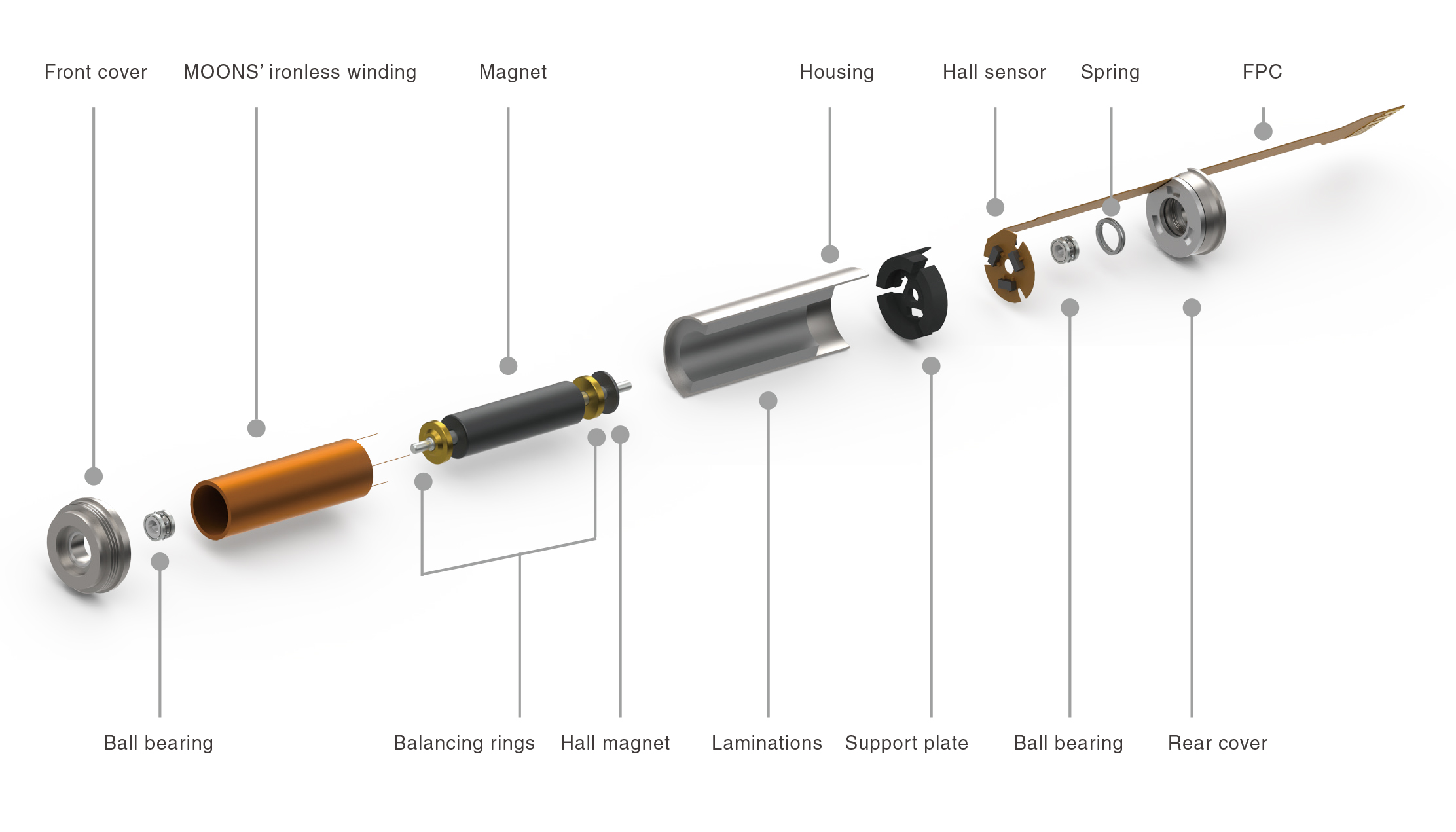 Features & Benefits
Innovative patented ironless winding helps our motor to achieve the best performance.
• Ironless winding
• Compact design
• Long operational lifetime
• No cogging
• No sparking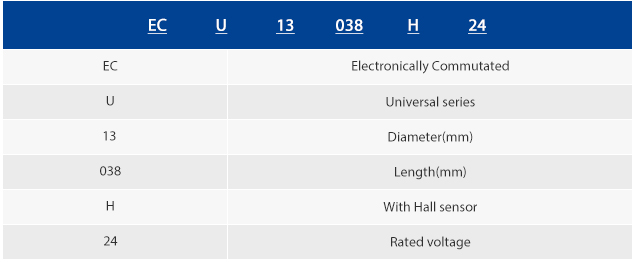 Item
No Load Speed
(rpm)
No Load Current
(mA)
Frame Size
Length
(mm)
Max. Speed
(rpm)
Rated Torque
(mNm)
Max. continuous torque
(mNm)
Rated Current
(A)
Max. continuous current
(A)
Speed/Torque Gradient
(rpm/mNm)
Motor Type
Encoder Type
Nominal Voltage
Price
(USD)
Compare
ECU13026H06-S001
24600
115
Φ13
25.2
40000
2
2.77
0.94
1.343
2826
Motor
NA
6Vdc

$153.00

ECU13026H09-S001
27200
107
Φ13
25.2
40000
1.3
3.02
0.55
1.08
2326
Motor
NA
9Vdc

$153.00

ECU13026H12-S001
24450
76
Φ13
25.2
40000
1.45
2.83
0.38
0.684
2526
Motor
NA
12Vdc

$153.00

ECU13026H18-S001
25050
54.4
Φ13
25.2
40000
1.28
2.77
0.24
0.458
2608
Motor
NA
18Vdc

$153.00

ECU13026H24-S001
26055
48.5
Φ13
25.2
40000
1.24
2.59
0.189
0.348
2685
Motor
NA
24Vdc

$153.00

ECU13026H12-S007&MH13-1024&PG13M-0019
953
68.4
Φ13
48.5
22.3
0.34
2510
Motor + Encoder + Gearhead
1024-line incremental magnetic encoder
9Vdc

$405.00
Show more
Show more
Show more
Item
No Load Speed
(rpm)
No Load Current
(mA)
Frame Size
Length
(mm)
Max. Speed
(rpm)
Rated Torque
(mNm)
Max. continuous torque
(mNm)
Rated Current
(A)
Max. continuous current
(A)
Reduction Ratio
Speed/Torque Gradient
(rpm/mNm)
Motor Type
Encoder Type
Nominal Voltage
Price
(USD)
Compare
ECU16024D12-S001
15250
45
Φ16
33.5
30000
2.5
3.5
0.383
0.5
NA
1694
Motor
NA
12Vdc

$255.00
Show more
Show more
Item
No Load Speed
(rpm)
No Load Current
(mA)
Frame Size
Length
(mm)
Max. Speed
(rpm)
Rated Torque
(mNm)
Max. continuous torque
(mNm)
Rated Current
(A)
Max. continuous current
(A)
Speed/Torque Gradient
(rpm/mNm)
Motor Type
Encoder Type
Nominal Voltage
Price
(USD)
Compare
ECH16056H24-S001
45200
575
Φ16
56
60000
8
14.59
1.73
3.46
160
Motor
NA
24Vdc

$209.00

ECH16056H36-S001
45900
600
Φ16
56
60000
10.5
14.28
1.53
2.46
135
Motor
NA
36Vdc

$209.00

ECH16056H48-S001
44800
530
Φ16
56
60000
7.5
12.71
0.92
1.74
145
Motor
NA
48Vdc

$209.00
Item
No Load Speed
(rpm)
No Load Current
(mA)
Frame Size
Length
(mm)
Max. Speed
(rpm)
Rated Torque
(mNm)
Max. continuous torque
(mNm)
Rated Current
(A)
Max. continuous current
(A)
Speed/Torque Gradient
(rpm/mNm)
Motor Type
Encoder Type
Nominal Voltage
Price
(USD)
Compare
ECH22045H18-S001
38100
740
Φ22
44.5
50000
13.5
17.7
2.9
4.65
121
Motor
NA
18Vdc

$214.00

ECH22045H24-S001
42300
827
Φ22
44.5
50000
10
18.4
1.83
4.19
90
Motor
NA
24Vdc

$214.00

ECH22045H36-S001
38200
625
Φ22
44.5
50000
10
17.7
1.23
2.57
99
Motor
NA
36Vdc

$214.00

ECH22045H48-S001
39500
550
Φ22
44.5
50000
12.1
17.2
1.2
1.99
85
Motor
NA
48Vdc

$214.00
Item
No Load Speed
(rpm)
No Load Current
(mA)
Frame Size
Length
(mm)
Max. Speed
(rpm)
Rated Torque
(mNm)
Max. continuous torque
(mNm)
Rated Current
(A)
Max. continuous current
(A)
Speed/Torque Gradient
(rpm/mNm)
Motor Type
Encoder Type
Nominal Voltage
Price
(USD)
Compare
ECH22060H24-S001
37000
1050
Φ22
60
50000
26
37.3
4.35
7.63
46
Motor
NA
24Vdc

$237.00

ECH22060H36-S001
41000
1100
Φ22
60
50000
26
38.1
3.16
5.68
41
Motor
NA
36Vdc

$237.00

ECH22060H48-S001
42000
1100
Φ22
60
50000
23
35.7
2.3
4.4
46
Motor
NA
48Vdc

$237.00
Item
No Load Speed
(rpm)
No Load Current
(mA)
Frame Size
Length
(mm)
Max. Speed
(rpm)
Rated Torque
(mNm)
Max. continuous torque
(mNm)
Rated Current
(A)
Max. continuous current
(A)
Reduction Ratio
Speed/Torque Gradient
(rpm/mNm)
Motor Type
Encoder Type
Nominal Voltage
Price
(USD)
Compare
ECU22032H24-S001
18000
115.7
Φ22
32
30000
6.75
10.4
0.53
0.93
337
Motor
NA
24Vdc

$170.00

ECU22032H24-S004&M16-1024&PG22M-0004
2848.1
101
Φ22
64.7
25
0.53
4
337
Motor + Encoder + Gearhead
1024-line incremental magnetic encoder
15Vdc

$343.00

ECU22032H24-S004&M16-1024&PG22M-0016
722.1
101
Φ22
70.6
90
0.53
16
337
Motor + Encoder + Gearhead
1024-line incremental magnetic encoder
15Vdc

$361.00

ECU22032H24-S004&M16-1024&PG22M-0035
321.2
101
Φ22
70.6
200
0.53
35
337
Motor + Encoder + Gearhead
1024-line incremental magnetic encoder
15Vdc

$361.00

ECU22032H24-S004&M16-1024&PG22M-0062
182.9
101
Φ22
76.4
330
0.53
62
337
Motor + Encoder + Gearhead
1024-line incremental magnetic encoder
15Vdc

$384.00

ECU22032H24-S004&M16-1024&PG22M-0111
101.2
101
Φ22
76.4
600
0.53
111
337
Motor + Encoder + Gearhead
1024-line incremental magnetic encoder
15Vdc

$384.00

ECU22032H24-S004&M16-1024&PG22M-0546
20.6
101
Φ22
82.6
2000
0.42
546
337
Motor + Encoder + Gearhead
1024-line incremental magnetic encoder
15Vdc

$413.00
Show more
Show more
Item
No Load Speed
(rpm)
No Load Current
(mA)
Frame Size
Length
(mm)
Max. Speed
(rpm)
Rated Torque
(mNm)
Max. continuous torque
(mNm)
Rated Current
(A)
Max. continuous current
(A)
Reduction Ratio
Speed/Torque Gradient
(rpm/mNm)
Motor Type
Nominal Voltage
Price
(USD)
Compare
ECT22064H24-S001
10600
401
Φ22
64
15000
45
54.24
1.89
2.9
NA
13.68
Motor
24Vdc

$409.00
Item
No Load Speed
(rpm)
No Load Current
(mA)
Frame Size
Length
(mm)
Max. Speed
(rpm)
Rated Torque
(mNm)
Max. continuous torque
(mNm)
Rated Current
(A)
Max. continuous current
(A)
Reduction Ratio
Speed/Torque Gradient
(rpm/mNm)
Motor Type
Encoder Type
Nominal Voltage
Price
(USD)
Compare
ECU26056H12-S001
10105
329
Φ26
56
20000
45
59.71
3.6
5.54
NA
16.7
Motor
NA
12Vdc

$228.00

ECU26056H24-S001
10300
315
Φ26
56
20000
45
58.36
1.84
2.87
NA
16
Motor
NA
24Vdc

$228.00

ECU26056H36-S001
10329
257.5
Φ26
56
20000
45
57.75
1.24
1.95
NA
15.2
Motor
NA
36Vdc

$228.00

ECU26056H48-S001
10450
207.3
Φ26
56
20000
44
57.1
0.92
1.48
NA
15.3
Motor
NA
48Vdc

$228.00

ECU26056H24-S003&M24-1024
10300
315
Φ26
65.9
20000
45
58.36
1.84
2.87
NA
16
Motor + Encoder
1024-line incremental magnetic encoder
24Vdc

$319.00

ECU26056H24-S002&M24-1024&PG26M-0004
2607.6
315
Φ26
87.4
163.5
1.82
4
15.7
Motor + Encoder + Gearhead
1024-line incremental magnetic encoder
24Vdc

$428.00

ECU26056H24-S002&M24-1024&PG26M-0021
491.6
315
Φ26
94.3
782.5
1.82
21
15.7
Motor + Encoder + Gearhead
1024-line incremental magnetic encoder
24Vdc

$448.00

ECU26056H24-S002&M24-1024&PG26M-0138
74.5
315
Φ26
101.3
4500
1.726
138
15.7
Motor + Encoder + Gearhead
1024-line incremental magnetic encoder
24Vdc

$473.00
Show more