Skip to content
Skip to navigation menu

MOONS' linear stepper motor actuators are designed based on the know-how technology of hybrid stepper motor with lead screw and nut. Provide high torque, high precision, and high efficiency to fit the application needs of designers. The combination of motor styles, sizes, lead-screws and nuts, gives the freedom to use linear stepper motors of different form factors to exactly fit in the application.
Features
• Extremely reliable stepper motors
• Patented Constant Force Nut Technology
• Great lead screw technology
• Offer online configurator for our most popular linear stepper motor.
Download
LE Series Family Brochure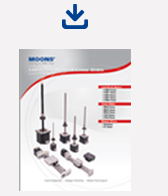 BE Series Family Brochure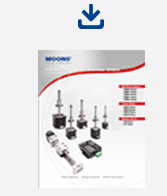 Permanent Magnet Linear Stepper Motors
MOONS' offers two types of PM linear stepper motors: Permanent Magnet (PM) Stepper Motor Non-Captive and Captive, with push/pull force ratings of 24N(86.3oz) to 50N(179.9oz).