Skip to content
Skip to navigation menu
Brushless DC Motors

In view of the disadvantages of the traditional brushless DC motors, the permanent magnet DC motor with electronic reversing instead of brush mechanical reversing has been developed as early as the 1930s. Since the 1970s, with the rapid development of the power electronics industry, many high-performance semiconductor power devices and high-performance permanent magnet materials have emerged, which have laid the foundation for the broad application of permanent magnet brushless DC motors (from now on known as "brushless DC motors"). Brushless DC motor has the advantages of an AC asynchronous motor, stepper motor Brushless DC motor, etc., generally suitable for the use of permanent magnet DC brush motor, and basically can be replaced by Brushless DC motor.
Brushless DC Motors has the following main advantages:
(1) With good mechanical characteristics and regulating characteristics, can replace the DC brush motor speed regulation, frequency conversion motor speed regulation, induction motor plus reducer speed regulation. (2) Can run at low speed and high power, save the reducer, and directly drive the large load. (3) It has many advantages of the traditional DC brush motor, but also eliminates the brush and collector ring structure. (4) Excellent torque performance, medium, and low-speed torque performance start torque is large, start current is small. (5) Step-less speed regulation, wide speed range, strong overload capacity. (6) Small volume, light weight, large output. (7) Soft start, soft stop, and good braking characteristics can leave out the original mechanical or electromagnetic device. (8) The motor itself has no excitation loss and brush loss, high efficiency, and a good comprehensive power-saving effect. (9) High reliability, good stability, strong adaptability, and simple repair and maintenance. (10) Vibration resistance, low noise, small vibration, smooth operation, and long life. (11) No spark, especially suitable for public places, anti-interference, good safety performance.
MOONS' has officially launched its new three-phase BLDC products, which are designed to benefit customers with optimized designs for noise reduction, vibration reduction, and longer working life. BLDC motors can be widely used in FA, pumps, valves, solar energy, automotive, and other fields.
The difference between BLDC motor and PMDC brush motor
Basic performance comparison of permanent magnet brush DC motor and brushless DC motor.
A comparison of the basic performance of permanent magnet brush DC motors and brushless DC motors is presented in the following table.
In the table, it can be seen that the brushless DC motor is stronger than the brush DC motor in terms of power density, peak efficiency, speed range, reliability, operation life, and structural strength. There is only one component of the permanent magnet brush DC motor that is more expensive than the controller. A brushless DC motor has greater advantages in terms of performance and other factors than a permanent magnet brush DC motor. With the rapid development and popularization of electronic control technology, the cost of controllers will be reduced, the volume will be smaller, and the power density will increase. The brushless DC motor is expected to replace the permanent magnet brush DC motor on a more frequent basis.
| | | |
| --- | --- | --- |
| Item | Permanent magnet DC brush motor | Brushless DC motors |
| Power density | Low | High |
| Peak efficiency | 85%~89% | 95%~97% |
| Load efficiency | 80%~87% | 85%~97% |
| Speed range | 1000~10000 | 500~10000 |
| Reliability | Common | Good |
| Operation life | Short | Long |
| Motor size | Lager | Small |
| The controller cost | Low | High |
Structure of BLDC motor
Brushless DC motor consists of rotor, stator and motor control part of brushless motor system.
Various brushless DC motors have different structures, and the final analysis of the rotor, stator, and motor control part of the brushless motor system concludes that permanent magnets are used for the rotor, coil windings and core are used for the stator, and commutation and phase detection elements are used for the motor control.

The rotor is divided into the outer rotor and the inner rotor, the outer rotor has a multi-pole block shape magnetic steel or ring magnetic steel, the stator pole has windings, and the position detection element and controller coordinate with one another in the stator-specific position place position detection element. Commutation can also be controlled using other methods since most of the motor's components are Hall components. Brushless DC motors can be compared with AC synchronous motors without taking into account the electronic commutation part. A brushless DC motor's internal rotor structure is shown in the following figure.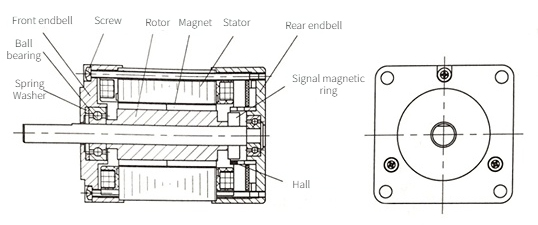 Application of BLDC motor
Brushless DC motor is widely used in national defense military, aerospace, office machinery, computer, audio, ventilation industry, home air conditioning, etc.
Among the many uses of brushless DC motors are national defense and military, aerospace, office machinery, computers, audio, ventilation industries, household air conditioning, automatic control, instrumentation, automobiles, as well as many forms of sophisticated brushless DC motors used in computer CD-ROM drives, hard drives, and other fields.

There are currently electric bicycles, electric motorcycles, micro electric vehicles, and most motors that are brushless DC motors. Aside from the annual output of tens of millions of electric bicycle brushless DC motors, there are also millions of electric bicycle motor manufacturers. Brushless DC motors are now used in sightseeing cars, tour buses, forklifts, and electric vehicles. A brushless DC motor for electric vehicles is a type of brushless motor widely used and of high performance.

In recent years, brushless DC motors have received increasing attention. As well as replacing the general permanent magnet brushless DC motor, it can also be widely used in CNC machine tools, machining centers, intelligent robots, and other applications that require high precision. It is possible to obtain higher efficiency in a wide range of speeds with brushless DC motors, making them more suited to household appliances that require frequency conversion speed regulation. In air conditioning, refrigerators, washing machines, and other products, brushless motor frequency conversion speed regulation is gradually replacing the conventional single-phase asynchronous motor. Thus, brushless DC motors have a wide range of potential applications.

With the miniaturization and modularization of controllers, the larger controller can be made smaller, and some can be done together with the motor to make brushless DC motors very convenient. Brushless motors are a new trend in research, development, and production.
Item
Phase
Frame Size
Length
(mm)
Max. Speed
(rpm)
Rated Torque
(Nm)
Rated Current
(A)
Price
(USD)
Compare
BLR16024H09-S001
3
16mm
26.8
13200
0.002
0.4

$75.00
Item
Phase
Frame Size
Length
(mm)
Rated Voltage
Max. Speed
(rpm)
Rated Torque
(Nm)
Rated Current
(A)
Price
(USD)
Compare
R36BLB10L2
3
36mm
40.2
24VDC
7500
0.019
0.75

$39.03

R36BLB4L1
3
36mm
45.2
12VDC
3000
0.021
0.75

$42.00

R36BLB15L2
3
36mm
50.2
24VDC
7400
0.029
0.98

$45.00

R36BLB20L2
3
36mm
55.2
24VDC
5800
0.048
1.3

$49.34
Item
Phase
Frame Size
Length
(mm)
Rated Voltage
Max. Speed
(rpm)
Rated Torque
(Nm)
Rated Current
(A)
Price
(USD)
Compare
R42BLD30L2-3
3
42mm
60
24VDC
5500
0.08
1.85

$45.00

R42BLD60L2-1
3
42mm
83
24VDC
5000
0.15
3.4

$50.00

R42BLD75L2-1
3
42mm
93
24VDC
5500
0.18
4.2

$60.00
Item
Phase
Frame Size
Length
(mm)
Rated Voltage
Max. Speed
(rpm)
Rated Torque
(Nm)
Rated Current
(A)
Price
(USD)
Compare
42BL30L2
3
42mm
46
24VDC
5000
0.072
1.67

$65.00

42BL30L4
3
42mm
46
48VDC
5000
0.072
0.81

$65.00

42BL60L2
3
42mm
70
24VDC
5000
0.144
3.28

$85.00

42BL60L4
3
42mm
70
48VDC
5000
0.144
1.63

$85.00

42BL90L2
3
42mm
100
24VDC
5000
0.215
4.92

$125.00

42BL90L4
3
42mm
100
48VDC
5000
0.215
2.4

$125.00
Show more
Item
Phase
Frame Size
Length
(mm)
Rated Voltage
Max. Speed
(rpm)
Rated Torque
(Nm)
Rated Current
(A)
Price
(USD)
Compare
R57BLB50L2
3
57mm
52
24VDC
5000
0.12
2.78

$68.27

R57BLB100L2
3
57mm
72
24VDC
5000
0.24
5.5

$97.51

R57BLB130L3
3
57mm
92
36VDC
5000
0.31
4.6

$129.91

R57BLB180L3
3
57mm
112.9
36VDC
5000
0.43
6.6

$149.00
Item
Phase
Frame Size
Length
(mm)
Rated Voltage
Max. Speed
(rpm)
Rated Torque
(Nm)
Rated Current
(A)
Price
(USD)
Compare
57BLD30L2
3
57mm
41.5
24VDC
5000
0.072
1.71

$68.00

57BLD30L4
3
57mm
41.5
48VDC
5000
0.072
0.86

$68.00

57BL60L2
3
57mm
54.5
24VDC
5000
0.145
3.2

$80.00

57BL60L4
3
57mm
54.5
48VDC
5000
0.145
1.6

$80.00

57BL120L2
3
57mm
82.5
24VDC
5000
0.29
6.9

$115.00

57BL120L4
3
57mm
82.5
48VDC
5000
0.29
3

$115.00

57BL180L2
3
57mm
120.5
24VDC
5000
0.43
10.5

$150.00

57BL180L4
3
57mm
120.5
48VDC
5000
0.43
4.5

$150.00
Show more
Item
Phase
Frame Size
Length
(mm)
Rated Voltage
Max. Speed
(rpm)
Rated Torque
(Nm)
Rated Current
(A)
Price
(USD)
Compare
80BL100L2
3
80mm
50
24VDC
5000
0.24
5

$160.00

80BL100L4
3
80mm
50
48VDC
5000
0.24
2.43

$160.00

80BL200L2
3
80mm
67
24VDC
5000
0.48
10.1

$200.00

80BL200L4
3
80mm
67
48VDC
5000
0.48
5.06

$200.00

80BL300L4
3
80mm
84
48VDC
5000
0.72
7.49

$240.00

80BLD300L2
3
80mm
84
24VDC
4000
0.72
12

$240.00
Show more