Skip to content
Skip to navigation menu
MOONS' Customized Slotless Motor For Fight Against COVID-19 (II)
July 09, 2020
Recently, MOONS' cooperated with an American ventilator manufacturer and successfully developed a customized high speed slotless motor for intensive care ventilator. The mass production of these newly developed slotless motor was achieved in late June and immediately delivered to the customer. The ventilator is a streamlined version developed by the vendor in a very short period of time in order to meet the needs of COVID-19 patients. Its features are: Faster assembly with fewer parts; Compact and portable, more convenient to use than common ICU ventilators; however, like other ventilators, it still has the necessary functions to respond to the treatment of critically ill patients, making it more efficient in helping COVID - 19 patients.
The newly developed slotless motor for this ventilator has a diameter of φ22mm and a body length of 45mm, a speed of 55,000rpm, a maximum efficiency of more than 90%, and an output power of more than 90W. Due to the special coreless winding design, the product can ensure low vibration and low noise even under high speed operation, which can better meet the application requirements of the ventilator.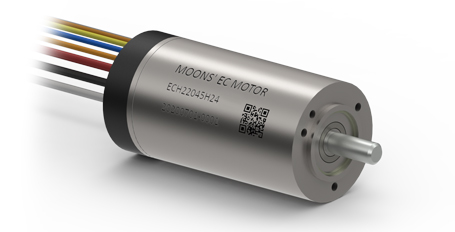 Figure above is MOONS' slotless motor
At the end of June, after the first batch of motors were delivered and assembled at the customer's end, the customer sent a sincere letter of thanks, in which they said: "Thank you for many sleepless nights' hard-working of every people involved in MOONS', thank you for your professional technology, quick response and positive attitude. Your great efforts will contribute for saving many living lives..."