Skip to content
Skip to navigation menu
ID

Portable Vibration Inspector

Not only vibration measuring but also multiple functional data collection are embedded in.
● Support rotation machinery condition inspection by vibration, infrared temperature, rotation speed measurement
● Single vibration channel, 16Bit amplitude resolution, 52K sampling rate, 6400 Lines Spectrum
● Embedded Infrared temperature detection
● Dynamic Balancing (1 plane)
● Route/Off-Route data review, dual cursor Indicator to assist basical analysis
● Flexible data transmission via USB, Wi-Fi or Bluetooth
● Windows CE -based, high performance, rugged designed ,support secondary development.
* Free shipping to North America and most of Europe for orders of $100 or more
Buyer Protection:
Free Exchange
if the item has quality problems within 1 year.
Learn more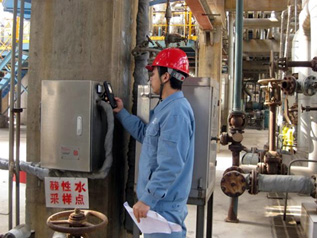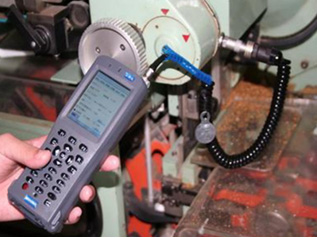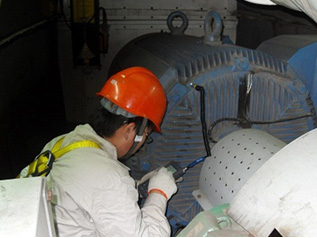 MOONS' handheld Vibration Inspector is an application in the industrial field, mainly to meet the rotating machine needs to realize state data of acquisition,recording, storage, query, analysis, summary. The vibration inspection result shows the mechanical parts loss of equipment, such as axis,bearing and gear etc. It helps to make the appropriate equipment maintenance measures, and ensure the good work of the equipment. It permits easy monitoring of key machine normally found in power generation, petrochemical, coal,metallurgy, tobacco and automobile industries.
With Inspection Software can achieve routine and offroutine inspecting; User can create and modify routes in a hierarchical form, define measuring points, types and schedules include specific instructions for operators.
Routine collection of vibration data during inspection rounds makes data of critical machines available on a regular basis, and improving personnel on reasonable arrangement of working time.
If required, user can collect additional data to identify root cause and then prompted to perform corrective actions by multiple function such like infrared temperature detection, digital camera, RFID/NFC, analog interphone, 3G/4G communication.
Conjunction with the pc software, this machine serves for machinery condition management in a plant even expanded to several plants. Upgrading both application program and pc software allows monitoring of unlimited machines, far from 10 machines supported in the basic software. Also, multiple peripherals are supported in different model, please check the selection guide in last page to find the solution for your monitoring needs.
Both MS400/MS600 series product provides data analyzing SDK(Software Development Kit)which let the program easily be invoked by the programmer. It can also incorporate data from other sources, such as MES (Manufacturing Execution System),MIS (Management Information System), EAM (Enterprise Asset Management) and ERP (Enterprise Resource Planning).



Basic Parameters
MS600EN
Dimension
176×77×32(mm)
Weight
510g (within battery)
Screen (With Touch Pannel)
4.3"TFT,480×800 Resolution
Keyboard(IM)
Squared layout, especially with independent function key
Support English and Numeric input
Memory / Data Storage
2GB DDR3 RAM / 8GB eMMC (Industrial Grade)
Indicator
Configurable sound and various LED indicating function
Battery
Rechargeable Lithium Ion battery, Nominal 3.7V/3600mAh, 10+ hours continuous working
Operating System Database
Android 4.4 / SQL Lite
Operating Environment
-20 ~ 55℃
IP rating
IP65
Regulation Compliant
Safety
EN 60950
Health
EN 62479
EMC
EN 301 489
Radio
EN 300 328, EN 301 908
Safe Transport
UN 38.3 (ST/SG/AC. 10/11/Rev.5/Amend.1 & Amend.2 38.3), IATA DGR 59
Vibration Measurement Parameters
Sensitivity (Standard Sensor)
(50±2)mV/g
Accuracy
±5% or ±2 Characters of reading value, take the larger value
ACC
Measuring Range
10Hz~10kHz

0.1m/s2~400.00m/s2(Peak)
Frequency Band
Min. 10Hz, Max. 5kHz(Default), 2kHz, 1kHz
SPS(Line Resolution)
1K(400), 2K(800), 4K(1600,Default), 8K(3200), 16K(6400)
VEL
Measuring Range
10Hz~1kHz

0.1mm/s~400.00mm/s(RMS)
Frequency Band
Min. 10Hz, Max. 1kHz(Default), 500Hz, 200Hz
SPS(Line Resolution)
512(200), 1K(400, Default), 2K(800), 4K(1600)¤, 8K(3200), 16K(6400)
DIS
Measuring Range
10Hz~500Hz

0.001mm~4.00mm(P-P)
Frequency Band
Min. 10Hz, Max. 500Hz, 200Hz, 100Hz(Default)
SPS(Line Resolution)
256(100, Default), 512(200), 1K(400), 2K(800), 4K(1600), 8K(3200)
Shock Energy
Measuring Range
0Hz~1kHz

0.1m/s2~200.00m/s2(Peak)
Frequency Band
HPF: 8KHz, Max. 1kHz, 500Hz(Default), 200Hz, 100Hz
SPS(Line Resolution)
256(100), 512(200), 1K(400, Default), 2K(800), 4K(1600), 8K(3200)
RPM Measurement Parameters
Type
Laser beam reflection
Measuring range
50~5000 RPM (can be extended to 30000 RPM)
Accuracy
±(0.02%n+1) rpm
Effective Measuring Distance
Min. 50mm, Max. 3 meters(depend on laser beam brightness)
Display Resolution
≤1000 RPM, +/-0.5 RPM
≥1000 RPM, +/-1 RPM
Infrared Temperature Measurement Parameters
Measuring range
-20℃ ~ 400℃
Accuracy
< 0 ℃,±2℃
≥ 0℃,±1℃ or 1% of reading value, take the larger value
Distance Ratio
20:1
Display Resolution
0.1℃
Emissivity Ratio
0.1 ~ 1.0 Adjustable, Default is 0.95
Response Time
300ms
Sighting Method
Laser marker(1 point)
Safty
power < 1mW, compliant with IEC 60825-1 Class 2
Communication Parameters
USB
USB2.0 high speed, Max. transmit speed 480MHz
WIFI
IEEE 802.11 a/b/g/n, 2.4GHz ISM, 11Mbps/54Mbps/150Mbps
Bluetooth
IEEE 802.14 4.0, compliant with BLE, 2.4GHz ISM, 926Kbps
Camera Parameters
Camera
Rear: 5M pixel
Front: 5M pixel, Auto Focus, with Flash Lamp

Delivery & Packaging
Ensure your ordered products are always safely packaged from easy click to fast delivery to your hands
Professional Product Label
Considering all possible harsh application environments, MOONS' specially designed labels for each product, which pass water-resistance test, durability rub test, high temperature resistance and corrosion resistance tests.

Besides, our product labels are attached with QR code linking to product details, which is convenient for clients to view the detail product page with their mobile phones.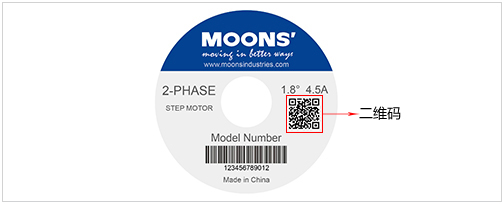 Note: This label design is suitable for products of stepper motor.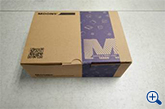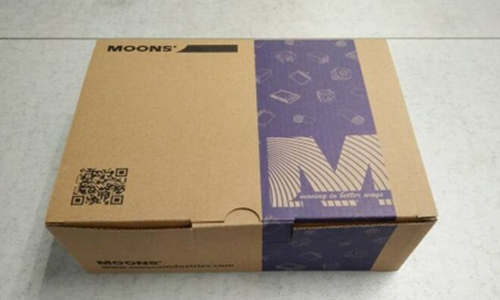 (Professional packing box and unique appearance design)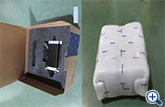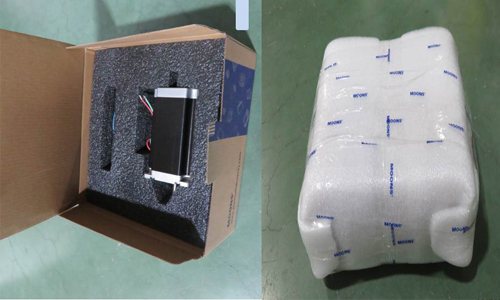 (Single item packed with EPE)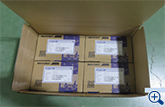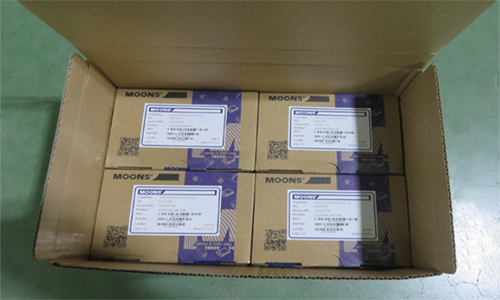 (Multi-products packed with another box)
Safely Packaging
In order to ensure your shipments withstand the long trip and arrive safely and intact, MOONS' specially designed Individual package to pass the drop test with its stable structure.
Besides,the package is made from recyclable materials, providing you with professional safety delivery.
Whether just single item or multi-products the clients buy, all products are packed twice to avoid the damage further.
Shipping Visualization
For each case, products are carefully packed by experienced warehouse staff and the key processes are recorded by photos, which are then posted on our website, so that clients could clearly know the packing process and logistics status after placing order.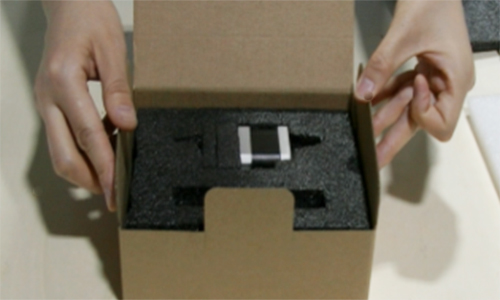 (Product in the box)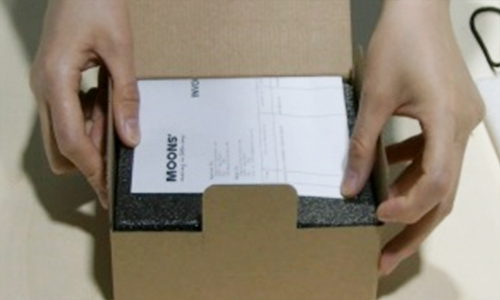 (Add the invoice)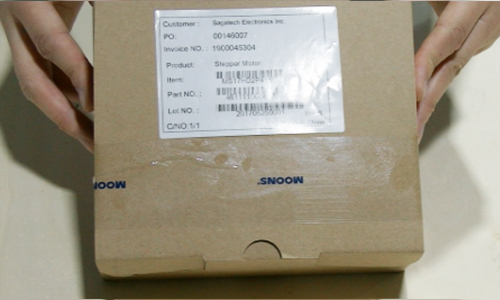 (Label the commodity)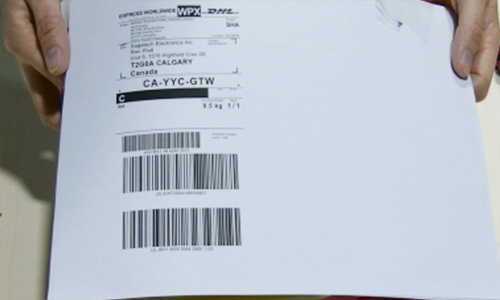 (The logistics waybill attached)

Fast Delivery
Fast Cross-Border Delivery
MOONS' chooses DHL as our main international express shipping partner. As the world's leading logistics specialist, DHL provides our customers with fast and professional inter- national door-to-door delivery service.
Estimated Delivery Time: e.g. China-USA major cities 3 business days.
Professional
Warehouse Management
MOONS' has an experienced warehouse management team, all products and materials are clearly classified and neatly arranged.