Skip to content
Skip to navigation menu
ID

Portable Vibration Analyzer

Precision vibration analyzer include electrical signal measuring function to support diagnosis of rotation machinery condition.
● Dual Channel, 24Bit Amplitude Resolution, 80KHz Bandwidth, 25600 Lines Spectrum
● High/Low RPM/Frequency Analysis, Cross-Channel Analysis
● Dynamic Balancing (1/2 plane), Long period data measurement
● Shaft orbit and position Analysis, Run up Coast down Analysis
● Remote data monitoring as temporary online monitor
● Route/Off-Route data review, L/R Symmetrical Operation, Dual Cursor Indicator
* Free shipping to North America and most of Europe for orders of $100 or more
Buyer Protection:
Free Exchange
if the item has quality problems within 1 year.
Learn more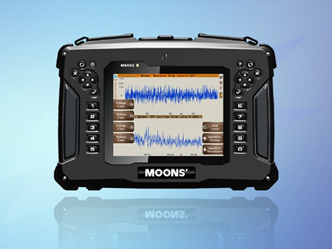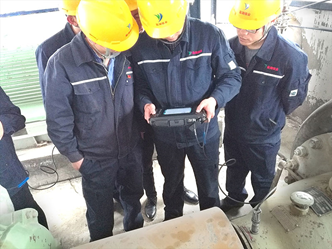 Multiple channel vibration analyzer is usually defined as a high-end handheld product to be developed because it is an important part of your predictive field diagnostic system, MS502 is that kind of product.
It performing condition monitoring data collection,analysis, and root cause correction in rotating equipment applications such as motors, fans, pumps, gear boxes and others, not only for common defection analysis but also often used to deal with complicated critical issue which is corresponding to mechanical structure, basement structure, material rigidity and production process control rationality so on.
Two simultaneous vibration channel as well one RPM channel make MS502 to implement comprehensive measurement capability, more dedicated analysis functions such as 2 plane dynamic balancing, orbit plot, cross-channel correlation and phase, long period measuring, also ease of use make it a powerful condition monitoring tool.
Basic Parameters MS502EN
Dimension
270*195*56 (mm)
Weight
1.9Kg (within battery)
Screen
6.5"TFT, 640×480 Resolution
Keyboard(IM)
Right and left symmetrical layout, especially with independent function key
Support English and Numeric input
Memory / Data Storage
256MB SDRAM / 4GB SD Card (Industrial Grade)
Indicator
Configurable sound and various LED indicating function
Battery
Rechargeable Lithium Ion battery, Nominal 7.2V / 5000mAh, 8+ hours continuous working
Operating System / Database
WinCE 6.0 / SQL Lite
Operating Environment
-20~55℃
IP rating
IP65
Regulation Compliant
Safety
EN 60950
Health
EN 62479
EMC
EN 301 489
Radio
EN 300 328
Safe Transport
UN 38.3 (ST/SG/AC. 10/11/Rev.5/Amend.1 & Amend.2 38.3), IATA DGR 59
Vibration Measurement Parameters ( Common Acquisition )
A/D Convert
24 bits
Accuracy
Common Measurement
(Non simultaneous)
10Hz~10KHz: ±1% (0.1dB)
DC~80KHz: ±5% (Eddy current sensor, DC Voltage measurement)
Simultaneous
(tacho trigger, <2KHz)
Amplitude (1X): 3%
Phase (1X): 5 Degree
Noise Floor (Acc Signal Reference)
<10uV(P-P)@1KHz Bandwidth (typ.)
<20uV(P-P)@10KHz Bandwidth (typ.)
<50uV(P-P)@80KHz

Bandwidth (typ.)
Dynamic Range
100dB (typical)
Dynamic Input
Channel Number
AC / DC Input (software selectable): single / dual channel
Constant-current power
2mA constant-current power switch software selectable
Accelerometer input
0~22 V, Full scale vibration level is ±100 g's when using a 100mV/g accelerometer (constant-current power on)
Volts input
Full scale ±30V (constant-current power off)
Tacho input
TTL pluse or user defined non-standard pluse
Sensor type
Accelerometer (Standard), Dynamic sensor with a voltage output (any DC-type signal)
Frequency Band Configuration
Min. 0Hz, 2Hz, 10Hz, 1KHz
Max.50Hz, 100Hz, 200Hz, 400Hz, 500Hz, 800Hz, 1KHz, 2KHz, 4KHz, 5KHz, 8KHz, 10KHz, 20KHz, 40KHz, 50KHz, 80KHz
Frequency Resolution Configuration
100Hz, 200Hz, 400Hz, 800Hz, 1600Hz, 3200Hz, 6400Hz, 12800Hz, 25600Hz
Measuring Range
(Standard Sensor)
ACC
0-1000m/s2 (Peak, Equivalent by RMS) @0.2Hz~80kHz
VEL
0.1mm/s~280.00mm/s(RMS) @ 2Hz~1kHz
DIS
0~2mm (Peak, Equivalent by RMS) @ 2Hz~500Hz
Number of Averages
1,2,4,8,16,32,64,128,256
Overlap
0%,25%,50%,75%
RPM Measurement Parameters
RPM Measuring range
30RPM ~ 300000RPM(0.5hz~5Khz)
Tach input level
TTL input, built-in conditioning for user defined non-standard signals, adjustable trigger level
-30V to 30V input level,plus amptitude votage great than 5 V (amptitude = tach input signal - tach input common ) (eg -6V high

and -15V low

plus )
Dynamic signal ground is isolated when TTL input in common mode
Standard TTL Sensor
Laser beam reflection
Accuracy
±(0.02%n+1) rpm
Effective Measuring Distance
Min. 50mm, Max. 1.5 meters(depend on laser beam brightness)
Display Resolution
≤1000 RPM, ±0.5 RPM
≥1000 RPM, ±1 RPM
Communication Parameters
USB
USB2.0 high speed, Max. transmit speed 480MHz
WIFI
IEEE 802.11 b/g, 2.4GHz ISM, 11Mbps/54Mbps
Bluetooth
IEEE 802.14 2.0, 2.4GHz ISM, 926Kbps

Delivery & Packaging
Ensure your ordered products are always safely packaged from easy click to fast delivery to your hands
Professional Product Label
Considering all possible harsh application environments, MOONS' specially designed labels for each product, which pass water-resistance test, durability rub test, high temperature resistance and corrosion resistance tests.

Besides, our product labels are attached with QR code linking to product details, which is convenient for clients to view the detail product page with their mobile phones.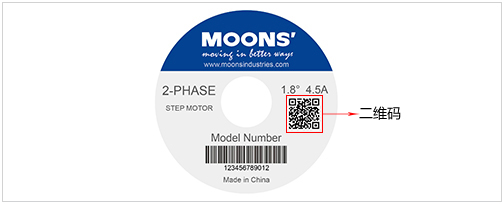 Note: This label design is suitable for products of stepper motor.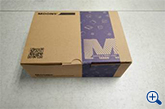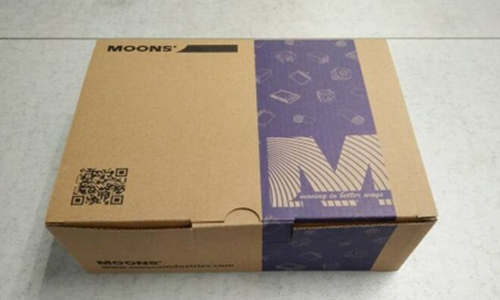 (Professional packing box and unique appearance design)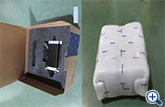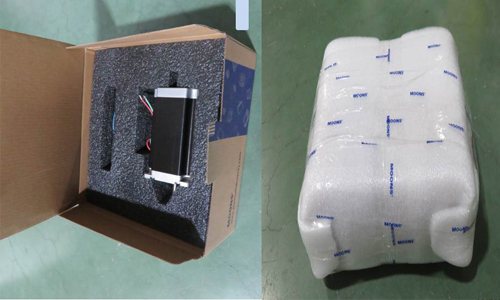 (Single item packed with EPE)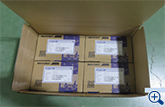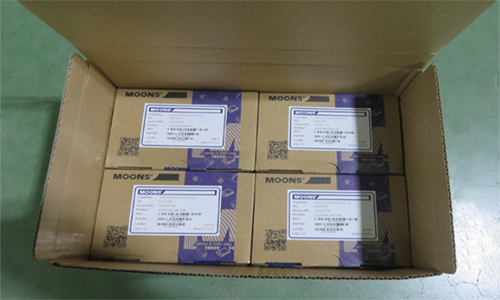 (Multi-products packed with another box)
Safely Packaging
In order to ensure your shipments withstand the long trip and arrive safely and intact, MOONS' specially designed Individual package to pass the drop test with its stable structure.
Besides,the package is made from recyclable materials, providing you with professional safety delivery.
Whether just single item or multi-products the clients buy, all products are packed twice to avoid the damage further.
Shipping Visualization
For each case, products are carefully packed by experienced warehouse staff and the key processes are recorded by photos, which are then posted on our website, so that clients could clearly know the packing process and logistics status after placing order.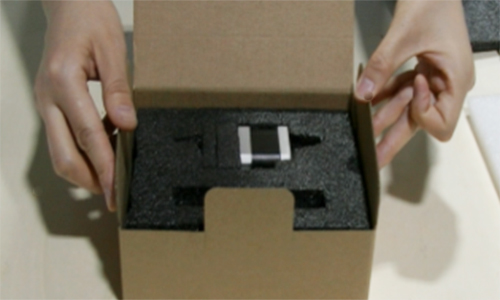 (Product in the box)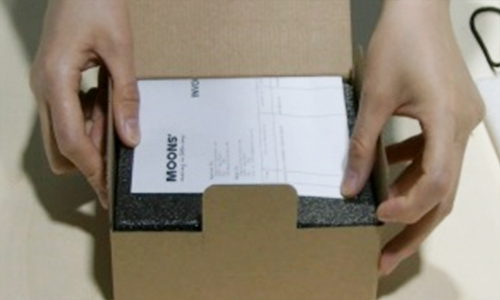 (Add the invoice)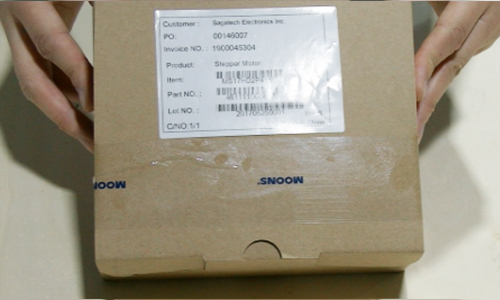 (Label the commodity)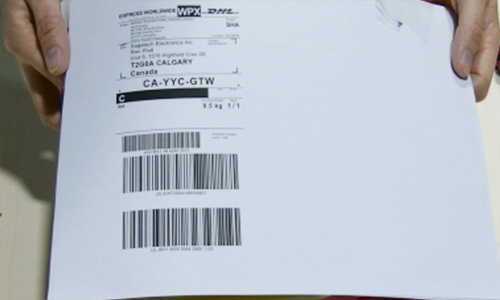 (The logistics waybill attached)

Fast Delivery
Fast Cross-Border Delivery
MOONS' chooses DHL as our main international express shipping partner. As the world's leading logistics specialist, DHL provides our customers with fast and professional inter- national door-to-door delivery service.
Estimated Delivery Time: e.g. China-USA major cities 3 business days.
Professional
Warehouse Management
MOONS' has an experienced warehouse management team, all products and materials are clearly classified and neatly arranged.