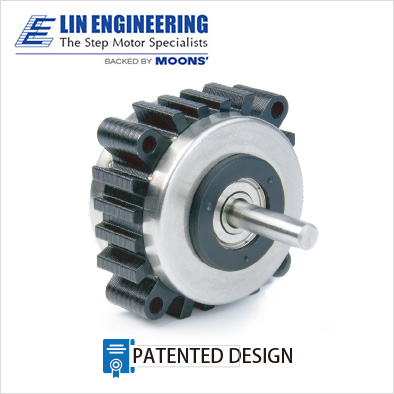 Compact & Powerful
G3718V - STEP MOTOR
• Improved passive cooling by design
• Up to 50% more torque than similar size motors
• Smooth Motion, high accuracy similar to a 0.9° motor
• Holding Torque: Up to 25 oz-in (0.18N-m)
Contact Us for More
Features

· It runs cooler

The G3718V whisper torque motor incorporates a heat-sink design within the stator laminations to allow for passive cooling. When your motor operates cooler, you can increase power to gain more torque without overheating, or you can save energy and still perform at an optimal performance. This is what makes all G-series steppers from Lin so unique: the motors are green and energy efficient.

· It's slimmer

The G3718V is slim by design. End caps are laser welded to the stator, eliminating much wasted space in traditional stepper motor designs. This laser welding assembly eliminates the need for assembly screws to hold the motor together. This unique construction offers great length to torque ration. At only 22.8mm long, the motor produces 25 oz-in of torque. Applications can mount this motor by utilizing the 4 through holes that are designed into the stator lamination.

· It's customizable

If encoder feedback is needed, the sleek and slim CUI encoder is a great addition to the G3718V. The CUI incremental encoder uses a patented capacitive ASIC Technology with low power consumption. Choose from various quadrature resolutions up to 2048.

· It's smooth, quiet, accurate, and delivers ample amount of torque

This stepper motor is a 1.8 degree per step motor, but it is as smooth as Lin's smoothest 0.9 degree stepper. With all the know-how and technology that Lin Engineering brings, implementing key design aspects from the 0.9 line into the G3718V has created a motor that wins in both smoothness, accuracy and torque. In traditional designs, one must compromise torque for smoothness or vice versa. With the G3718V, you can still get both.

· Application Examples

| | | | |
| --- | --- | --- | --- |
| | | | |
| | | | Laboratory automation system |

· Available Options

Custom Winding
Custom windings can insure maximumtorque at a desired speed. This service is offered free of charge.

Customized Leads
Custom connections can range from EMI or IP protection, to custom color coding.

Various Shaft Options
With in-house machining capabilities, we're able to provide a variety of shaft options at a cost effective price with minimal lead times.

Specifications

Dimension A
(MAX)
Model Number
Rated Current
(Amps/Phase)
Holding Torque
Resistance
(Ohms/Phase)
Inertia
(oz-in²)
Weight
(Lbs.)
Number of
Leads
(oz-in)
(N-m)
0.90" (22.86 mm)
G3718V-01
0.44
25
0.18
18.00
0.08
0.29
4
0.90" (22.86 mm)
G3718V-02
0.65
25
0.18
8.42
0.08
0.29
4
0.90" (22.86 mm)
G3718V-03
1.20
25
0.18
2.33
0.08
0.29
4
0.90" (22.86 mm)
G3718V-04
1.60
25
0.18
1.39
0.08
0.29
4
0.90" (22.86 mm)
G3718V-05
0.30
25
0.18
33.13
0.08
0.29
4

Dimensions

Torque Curves

About LIN ENGINEERING

LIN ENGINEERING was established in 1987, is the largest manufacturer of the 0.9 degree hybrid step motor in the World. Locates in Silicon Valley, USA where gathers top high-tech enterprises and talents, its' products are mainly applied in Medical instrumentation, high level security monitoring device, aerospace avionics, etc. In 2014, Lin Engineering manufactured 550 thousand pcs 0.9º hybrid stepper motors. June 3rd, 2015 – MOONS' acquired LIN ENGINEERING, INC. of Morgan Hill, CA, which is located in Silicon Valley, USA. It's a milestone that MOONS' will explore North America market further after the acquisition of Applied Motion Products in 2014.