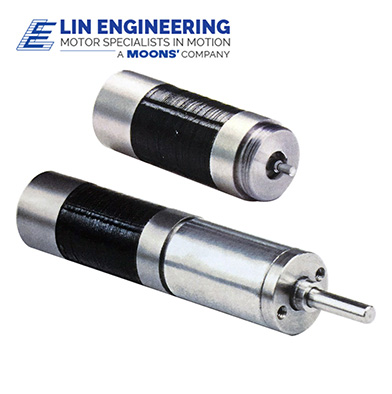 PTX05 HPM Nano Step Motor
• HPM (Hybrid-PM-Mix), a First of Its Kind.
• Just 13mm In Diameter
• Optimized for High and Low Speed Operations
• Precise Positioning Control
• Position Hold
• Low Noise and Vibration
• Cost Effective
Contact Us for More
Features
Specifications
With a GEARBOX
We've taken the best parts of a Hybrid Stepper, PM stepper, and a BLDC motor, and combined them to create a motor that acts as a high-speed BLDC motor with the benefits of a Hybrid Stepper technology: precise positioning control, position holding, and low speed operations.

This motor opens new possibilities for Engineers to create motion that was not feasible before. Imagine being able to precisely control the movement, stop and hold the position, and then drive the motor at speeds of 10,000 RPM.

· HPM Technology

HPM Motor stands for Hybrid-PM-Mix. It's the first motor of its kind. We've combined the stator of a Hybrid Stepper, rotor of a PM motor, and form factor of a high-speed BLDC. The result is a motor that behaves like a typical high-speed BLCD with the added benefits of Hybrid steppers: precise position control and position holding.

· High Torque

Hybrid Steppers are capable of higher torque output than conventional BLDC motors of similar size. This gives Engineers flexibility to reduce the form factor of their applications by downsizing the motor, or increase efficiency of their existing designs.

· Precise Control

PTX05 offers a base step angle of 30 degrees (12 steps per revolution). When paired with a gearhead, the step angle can be reduced to accommodate even the most demanding application.

· Low speed applications

Conventional BLDC motors struggle with low speed operation due to the forbidden region of low speed. In order to operate a conventional high-speed BLDC motor at low speeds, the motor usually has to be paired with a high gear ratio gearhead. The downside is the limited high speed capability.

The PTX05, on the other hand, functions just like a regular Hybrid Stepper. It can be operate even at a fraction of 1 RPM. Because of this, the motor can be paired with a lower gear ratio gearhead, extending the usable speed range of the motor.

· High speed applications

Just like a conventional high-speed BLDC motor, The PTX05 can operate at speeds of 10,000 RPM while maintaining plenty of usable torque. The motor produces more torque than a conventional BLDC motor of the same size, allowing the motor to achieve comparable speed and torque of a typical BLDC using a lower gear ratio gearhead.

· Small size

PTX05 measures only 13mm in diameter, making it one of the smallest Stepper available on the market.

· Low-noise and vibration

The motor runs whisper quiet at both low and high speeds. It is free of buzzing and humming associated with conventional steppers, making it ideal for application where noise can be of concern. PTX05 is also a low vibration and low resonance motor that introduces virtually zero vibration to the system, even at high speed.

· Gearhead options

The PTX05 can be paired with different gearheads to accommodate a wide range of operating speeds while maintaining needed torque output. Gear ratios include: 64:1, 256:1 and more.

Example Gearheads
Gear Ratio
Output Step Angle
64:1
0.47 °
256:1
0.12 °

· Cost effective

Since the PTX05 generates more torque than a conventional BLDC motor of similar size, the motor can be paired with a less expensive 2-stage gearhead with lower gear ratio while providing required torque and speed for the application. Lower geared gearheads are less expensive, more efficient, and often introduce lower error rates due to lower stage count.

Since the motor can be driven like a regular stepper (by pulsing), the need for expensive encoders is often eliminated. This further reduces the overall costs of the systems.

· Applications

| | | | | | | | | | | |
| --- | --- | --- | --- | --- | --- | --- | --- | --- | --- | --- |
| | | | | | | | | | | |
| | | Electric Oil Valves | | Electric Grippers | | Syringe Pumps | | Miniature Hydraulic Pumps | | |

About LIN ENGINEERING

LIN ENGINEERING was established in 1987, is the largest manufacturer of the 0.9 degree hybrid step motor in the World. Locates in Silicon Valley, USA where gathers top high-tech enterprises and talents, its' products are mainly applied in Medical instrumentation, high level security monitoring device, aerospace avionics, etc. In 2014, Lin Engineering manufactured 550 thousand pcs 0.9º hybrid stepper motors. June 3rd, 2015 – MOONS' acquired LIN ENGINEERING, INC. of Morgan Hill, CA, which is located in Silicon Valley, USA. It's a milestone that MOONS' will explore North America market further after the acquisition of Applied Motion Products in 2014.
Specifications

Model Number
Degree
Frame Size
(mm)
Length
Current
(Amp)
Holding Torque
Resistance
(Ohm)
Inductance
(mH)
Lead Wires
mm
in
oz-in
mNm
1330-13-01
30
13
33.02
1.30
0.90
0.64
4.52
1.50
0.13
4

· Motor dimensions · Motor torque curves
With a GEARBOX

Gear Ratio
64:1
256:1
L1 in (mm)
0.62 (15.8)
0.93 (23.7)
L2 in (mm)
1.86 (47.2)
2.17 (55.1)
Contact us for additional data or gear ratios

· Motor + gearbox dimensions · Motor + gearbox torque curves