Skip to content
Skip to navigation menu
ID

Encoder AMT10 Series

28 mm, 48~2048PPR, Incremental, Capacitive Modular Encoder
● Patented capacitive ASIC technology
● Low power consumption
● CMOS outputs
● 16 DIP switch selectable resolutions up to 2048 PPR
● Index pulse
● Modular package design
● Straight (radial) and right-angle (axial) versions
● 9 mounting hole options for radial version
● 8 mounting hole options for axial version
● -40~100°C operating temperature
● Resilient to dust, dirt and oil
* Free shipping to North America and most of Europe for orders of $100 or more
Buyer Protection:
Free Exchange
if the item has quality problems within 1 year.
Learn more
Part Number Key
For customers that prefer a specific AMT10 configuration, please reference the custom configuration key below.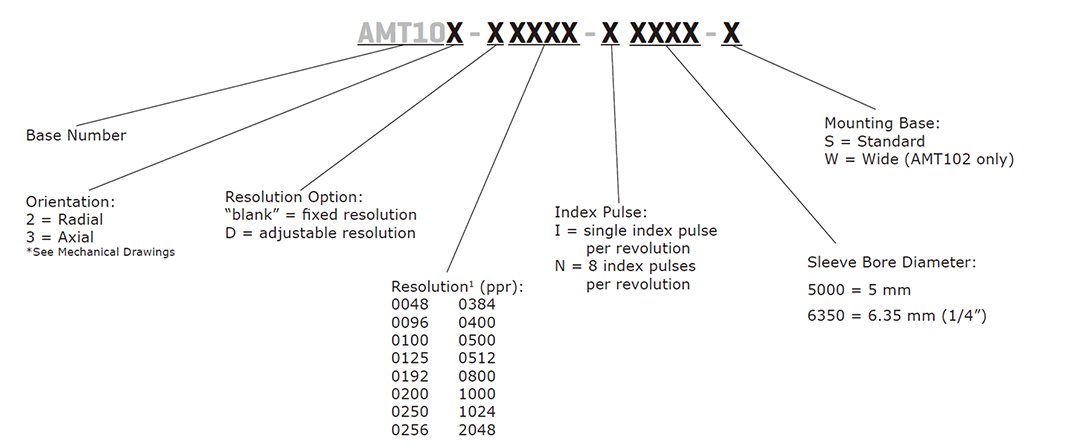 Note: 1. Fixed resolutions are permanently set at this value; adjustable resolutions are preset via DIP switch to this value upon shipment.
AMT10-V Kits
In order to provide maximum flexibility for our customers, the AMT10 series is provided in kit form standard. This allows the user to implement the encoder into a range of applications using one sku#, reducing engineering and inventory costs.

Resolution Settings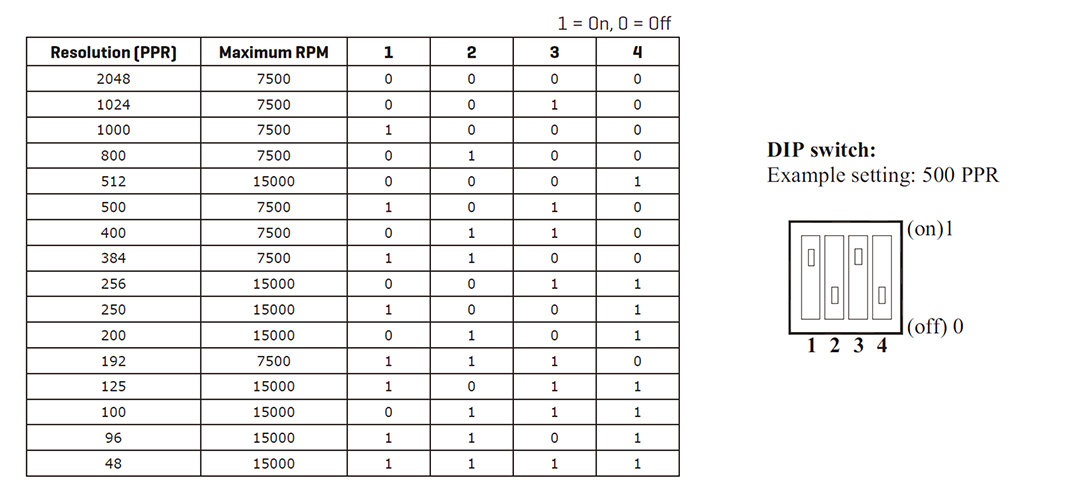 Encoder Interface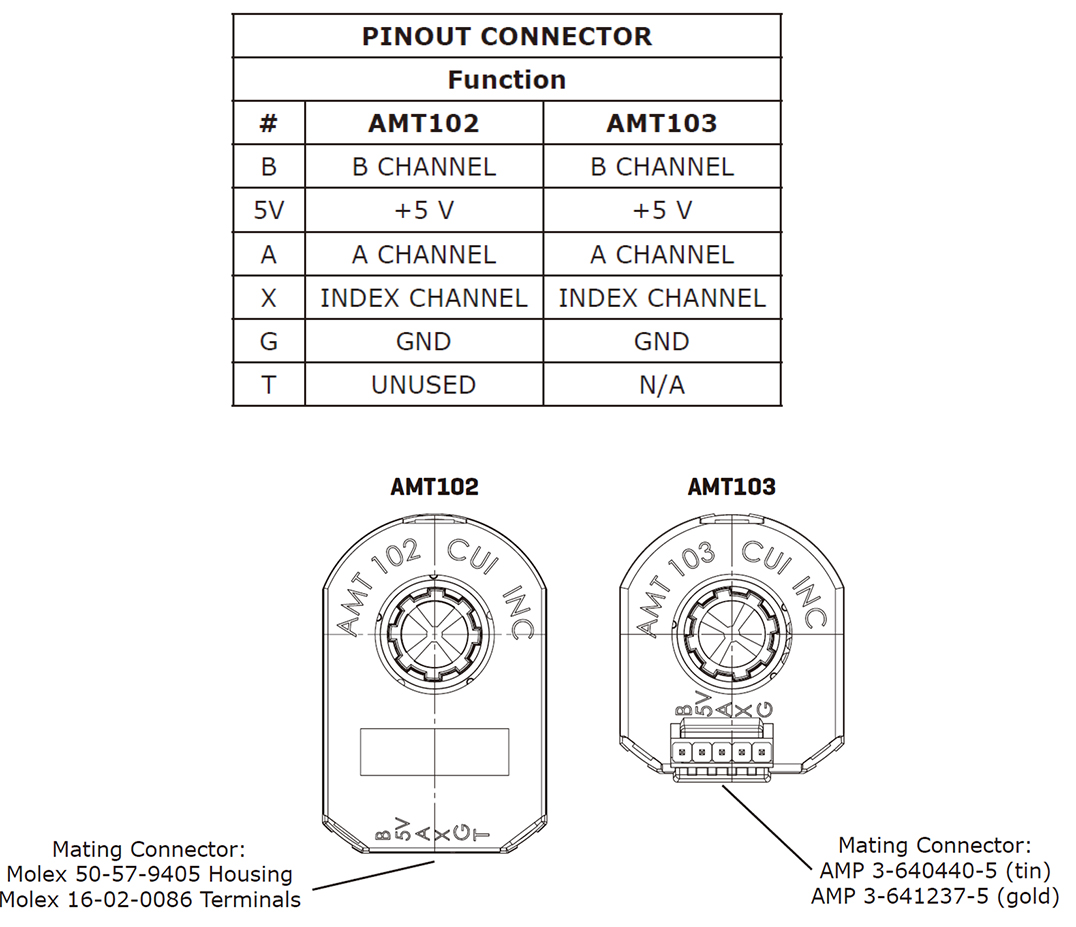 Electrical

Incremental Characteristics

Notes: 1. Resolution selected via adjustable DIP switch
2. Some stepper motors may leak a magnetic field causing the AMT index pulse to not function properly (non-magnetic version available with 8 pulses per revolution).
Mechanical

Environmental

WAVEFORMS
Figure 1
Quadrature signals with index showing counter-clockwise rotation

The following parameters are defined by the resolution selected for each encoder, where R = resolution.

Compare
Item
Price
(USD)
Buy Now
AMT102-C1
$38.00
Mechanical Drawing
AMT102
units: mm[inch]
tolerance: ±0.1mm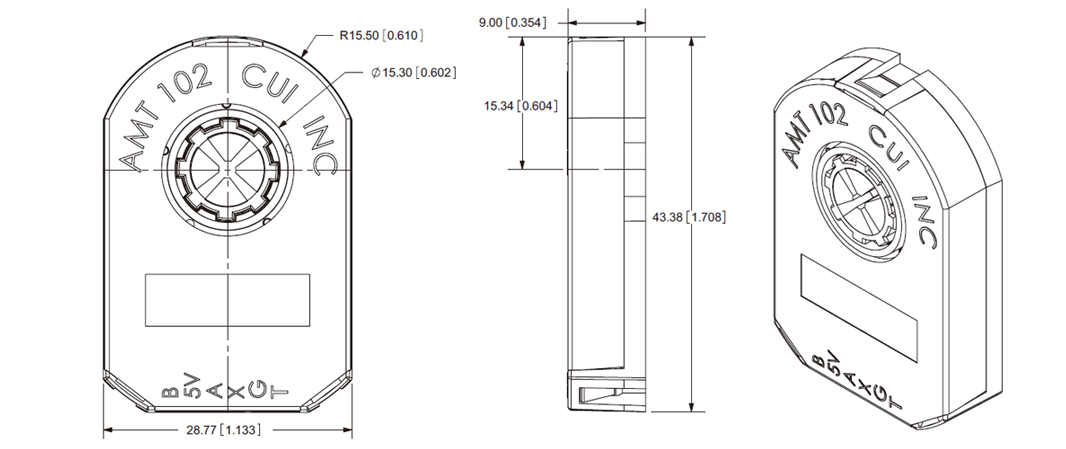 AMT102 WIDE BASE
units: mm[inch]
tolerance: ±0.1mm

AMT103
units: mm[inch]
tolerance: ±0.1mm

Mechanical Drawing(Continued)
MOUNTING HOLE PATTERNS
AMT102
units: mm[inch]
tolerance: ±0.1mm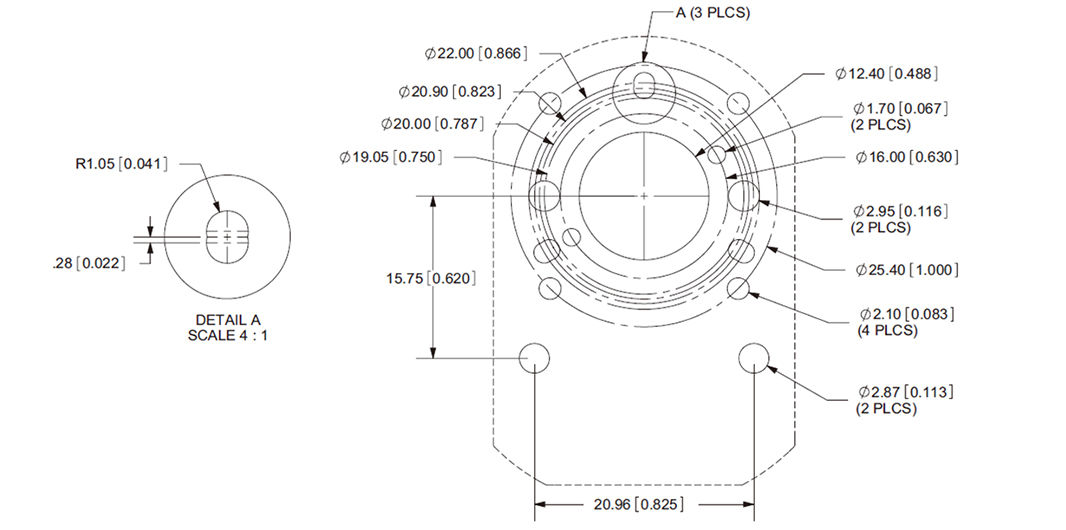 AMT102 WIDE BASE
units: mm[inch]
tolerance: ±0.1mm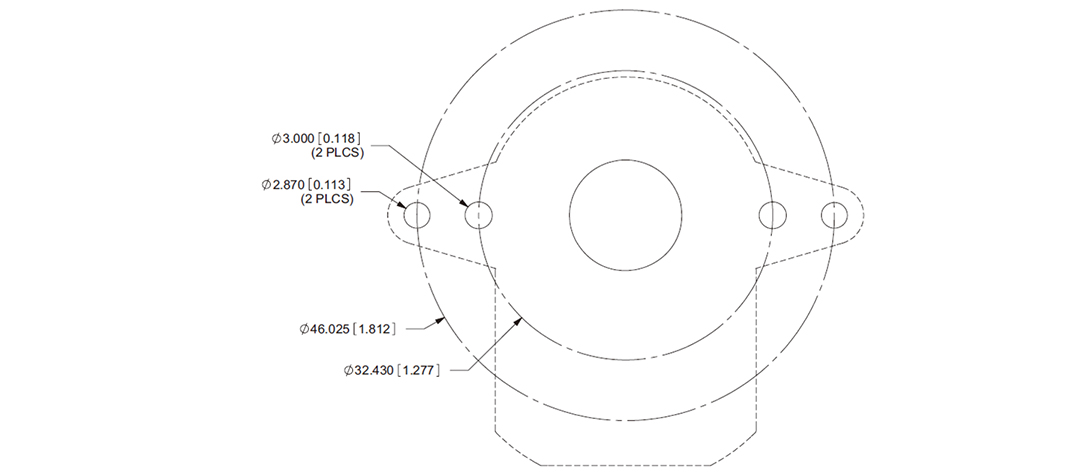 AMT103
units: mm[inch]
tolerance: ±0.1mm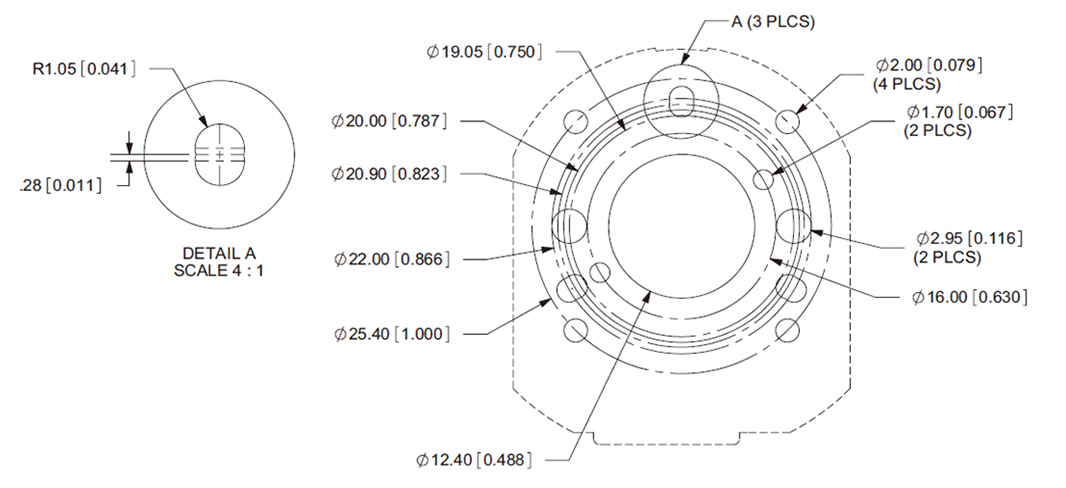 Assembly Procedure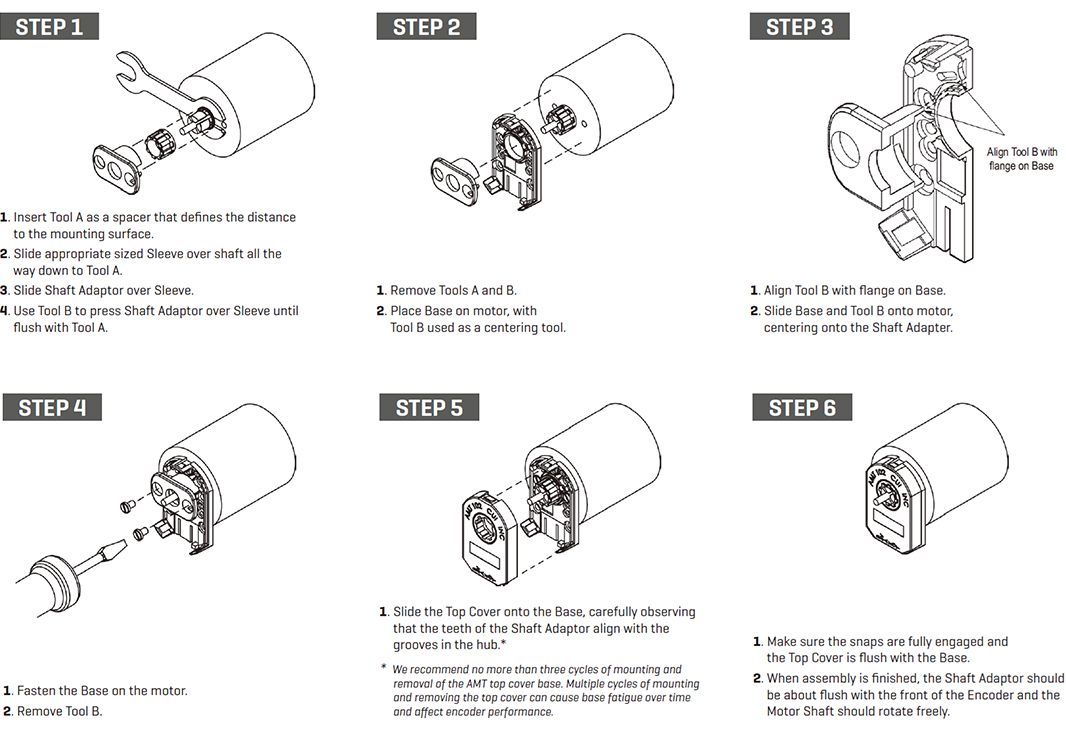 Delivery & Packaging
Ensure your ordered products are always safely packaged from easy click to fast delivery to your hands
Professional Product Label
Considering all possible harsh application environments, MOONS' specially designed labels for each product, which pass water-resistance test, durability rub test, high temperature resistance and corrosion resistance tests.

Besides, our product labels are attached with QR code linking to product details, which is convenient for clients to view the detail product page with their mobile phones.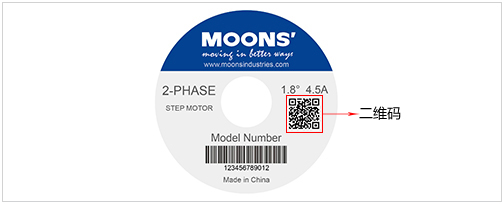 Note: This label design is suitable for products of stepper motor.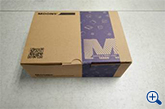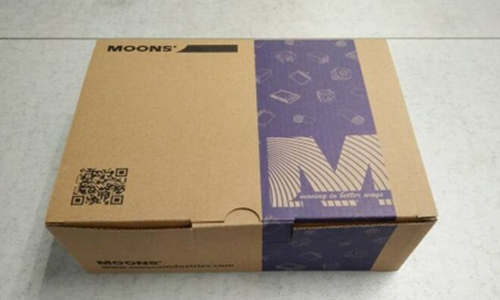 (Professional packing box and unique appearance design)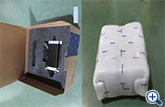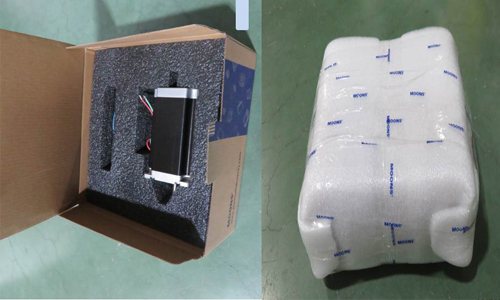 (Single item packed with EPE)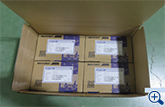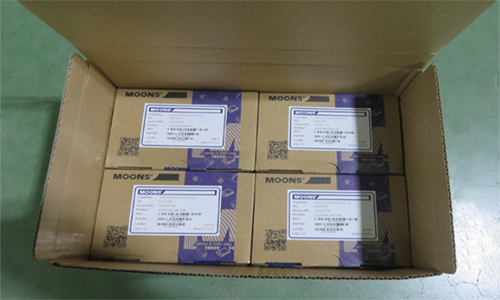 (Multi-products packed with another box)
Safely Packaging
In order to ensure your shipments withstand the long trip and arrive safely and intact, MOONS' specially designed Individual package to pass the drop test with its stable structure.
Besides,the package is made from recyclable materials, providing you with professional safety delivery.
Whether just single item or multi-products the clients buy, all products are packed twice to avoid the damage further.
Shipping Visualization
For each case, products are carefully packed by experienced warehouse staff and the key processes are recorded by photos, which are then posted on our website, so that clients could clearly know the packing process and logistics status after placing order.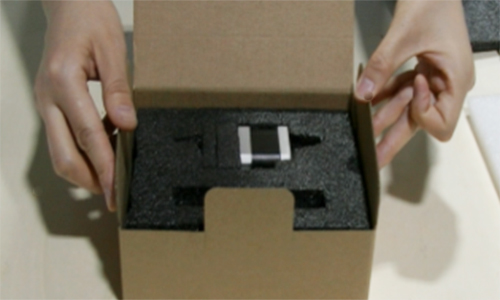 (Product in the box)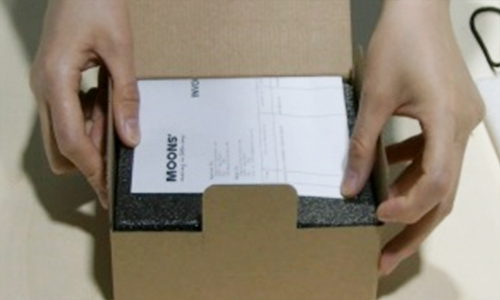 (Add the invoice)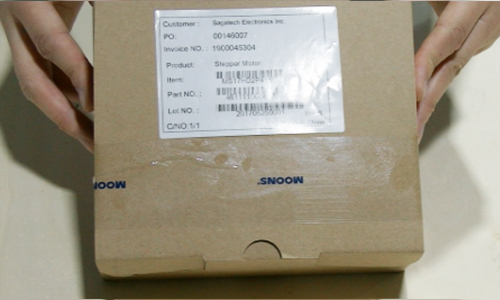 (Label the commodity)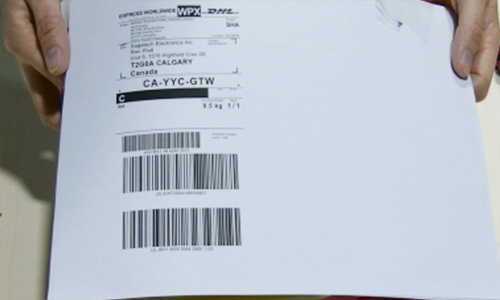 (The logistics waybill attached)

Fast Delivery
Fast Cross-Border Delivery
MOONS' chooses DHL as our main international express shipping partner. As the world's leading logistics specialist, DHL provides our customers with fast and professional inter- national door-to-door delivery service.
Estimated Delivery Time: e.g. China-USA major cities 3 business days.
Professional
Warehouse Management
MOONS' has an experienced warehouse management team, all products and materials are clearly classified and neatly arranged.