Skip to content
Skip to navigation menu
ID

MU240HxxxAQ_DALI2 Series

MU240HxxxAQ_DALI2 is a programmable outdoor DALI-2 certificated driver, and integrated DALI power supply function, auxiliary output function, energy metering., etc. which are designed and ideal for outdoor and industrial management systems.
● Zhaga Book18 compliant and D4i certified incl. Parts 25x + AUX
● Input Voltage: 90~305VAC
● Built-in active PFC function: 0.98 Typ
● High efficiency: up to 94%
● Full Power at Wide Output Current Range (Constant Power)
● DALI-2 dimming, dim to off, 15V/60mA DALI power supply
● 5-year Warranty
* Free shipping to North America and most of Europe for orders of $100 or more
Buyer Protection:
Free Exchange
if the item has quality problems within 1 year.
Learn more
Description
MU240HxxxAQ_DALI2 driver is integrated with both DALI power supply and auxiliary output. It plays important role in lighting system as below.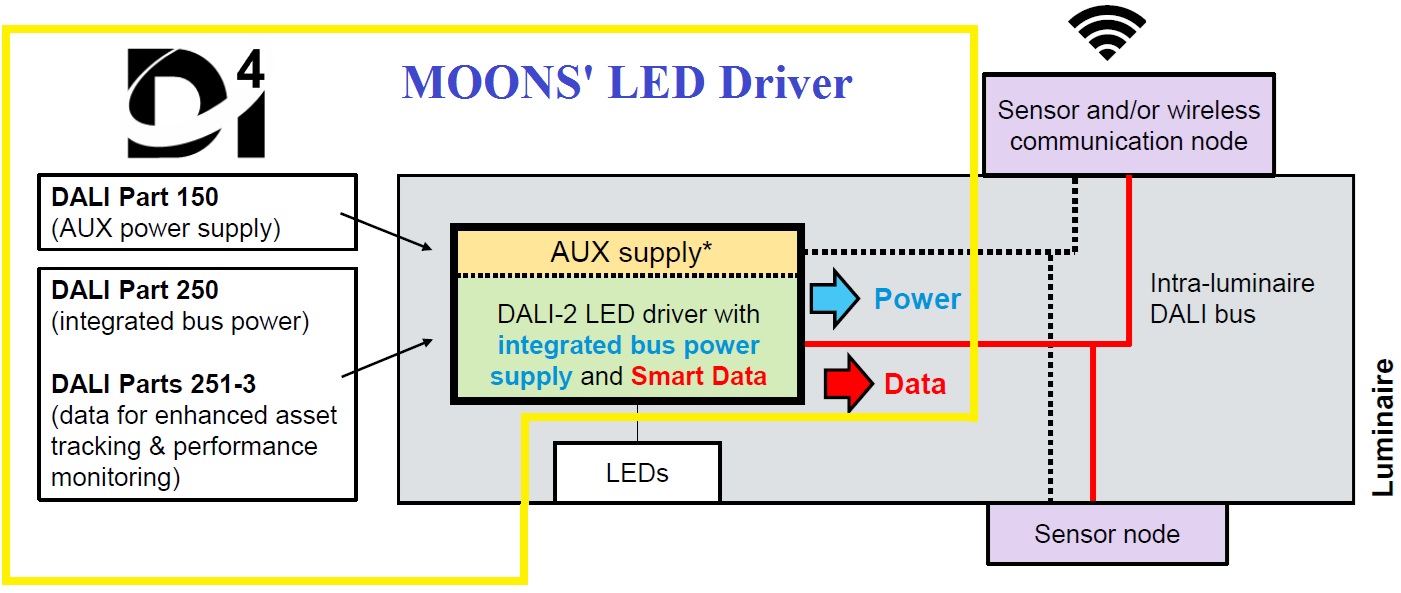 Compared with common DALI-2 outdoor LED driver, which meet 101,102,207. D4i driver own latest DiiA specifications.
• DiiA Part 250 - Integrated Bus Power Supply
| | |
| --- | --- |
| Output voltage | 12V - 15V typ. - 18V |
| Output current | 0mA-60mA max, 52mA (guaranteed value) |
——Suitable for powering sensors or communication modules in a luminaire.
——For memory bank, current ratings can be read, PSU can be enabled or disabled.
• DiiA Part 150 - AUX Power Supply
| | |
| --- | --- |
| Output voltage | 21.6V - 24V typ. - 26.4V |
| Output current | 0mA-200mA max |
——Provide 3W average, 6W peak.
——Suitable for devices with higher-power requirements.
• DiiA Part 251 – Memory Bank 1 Extension (Luminaire Data)
——Include luminaire supply power & voltage, light output, CCT & CRI, light distribution,
  luminaire color and other luminaire data.
• DiiA Part 252 – Energy Reporting
——Active energy/power, apparent energy/power, load-side energy/power.
• DiiA Part 253 – Diagnostics & Maintenance
——Failure conditions for control gear and lamps, including counters.
——Control gear information: Operating time, start counter, supply voltage and frequency, power factor, temperature and output current.
——Light source information: Operating voltage, current, temperature, light source start counter, light source on time.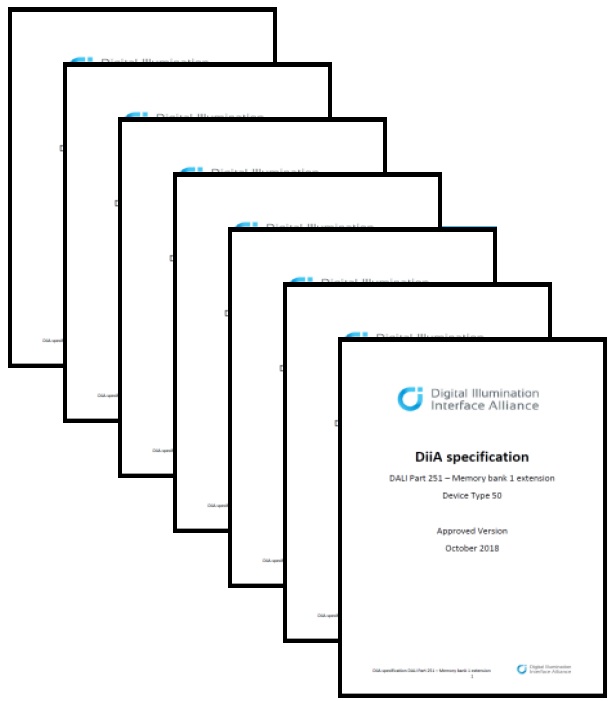 | | | | | | |
| --- | --- | --- | --- | --- | --- |
| Part Number | Output Voltage Range | Output Current Range | Output Power | Efficiency (Typ) 220VAC | Certification |
| MU240H105AQ_DALI2 | 137-343VDC | 70-1050mA | 240W | 93% | UL/CUL |