Skip to content
Skip to navigation menu
NEMA17
NEMA23
NEMA11
NEMA 8
NEMA14
NEMA 24
NEMA 34
0-10V
DALI
Semiannual Conference on Project of "Key Technology and System Integration of New-Form and Multifunctional Indoor Smart Lighting" in Key Category of "Strategic Advanced Electronic Materials" under National "13th Five-Year Plan" Key R&D Program was Held at MOONS'
Semiannual Conference on Project of "Key Technology and System Integration of New-Form and Multifunctional Indoor Smart Lighting" in Key Category of "Strategic Advanced Electronic Materials" under National "13th Five-Year Plan" Key R&D Program was Held at MOONS'
April 11, 2018
From March 30th to 31st , 2018, a Semiannual Conference on the "Key Technology and System Integration of New-Forms and Multifunctional Indoor Smart Lighting" project in the key category of "Strategic Advanced Electronic Materials" under the national "13th Five-Year Plan" Key R&D Program was held at MOONS' headquarters.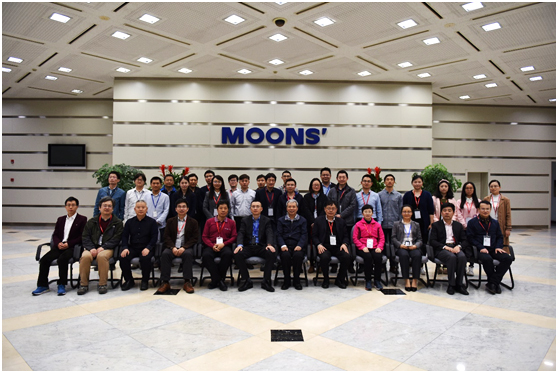 The Project Group was very proud to invite:
Professor-level senior engineer Jianming Liu, Leader of the Expert Group on the National Key Category of Smart Grid and Equipment in the "13th Five-Year Plan" Period
Doctoral tutor Prof. Yiping Huang, former Executive Associate Dean of the School of Microelectronics and Dean of the Department of Microelectronics, Fudan University
Doctoral tutor Prof. Nan Chi, an expert at the Advisory Group on Telecommunication Transmission and Access, Communication Technology Commission, Ministry of Science and Technology
Mr. Xiang Zhou, Deputy Secretary-General of the China Sold State Lighting Alliance and a council member of the China Illuminating Engineering Society as advisory experts for the conference
More than 30 representatives from 11 enterprises and institutions presented, including Shanghai Feilo Acoustics Co., Ltd. (Feilo), Tsinghua University, Fudan University, Huazhong University of Science and Technology, National Lighting Test Centre China (Beijing), Architectural Design & Research Institute of Tsinghua University Co., Ltd., ZTE Corporation, Beijing Zhixing Microelectronics Technology Co., Ltd., Shenzhen State Grid Technology Communication Co., Ltd., Shanghai MXCHIP Information Technology Co., Ltd. and MOONS'.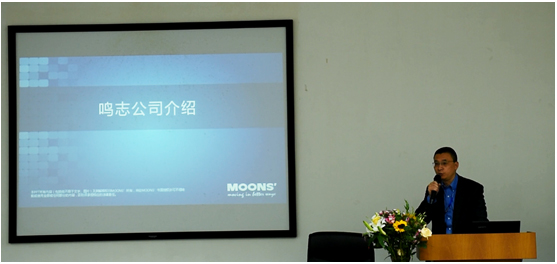 MOONS' General Manager Jianyun Chang made a welcome speech
The conference began on March 30th. Mr. Jianyun Chang, Vice President of Shanghai MOONS' Electric Appliances Co., Ltd. and General Manager of Shanghai MOONS' Automatic Control Equipment Co., Ltd. made a welcome speech and introduced MOONS' investment in and studies on smart lighting firstly. Then leaders of the research groups reported on the progress of the respective studies. After listening to the reports, the four experts made comments on the project progress in the previous six months and put forward advice on future project implementation.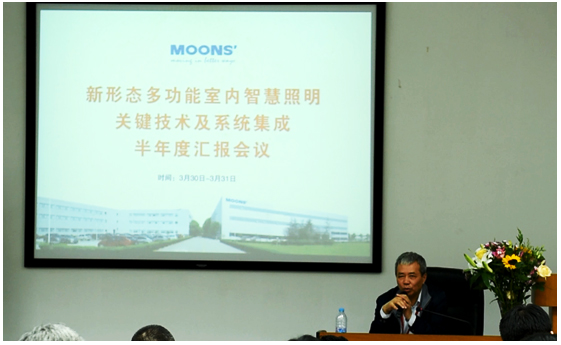 Professor-level senior engineer Jianming Liu made a comment
On March 31st, the research groups held panel discussions to discuss the future work plan of each subject. After the discussions, a summary meeting was held. "Due to the long project period, we must set prospective targets and be prepared for future industrialization", said Mr. Min Tong, CTO of Feilo. Finally, Jian Song, Leader of the Project Group and a professor at Tsinghua University hoped that all institutions and enterprises involved in the project would make efforts together and move forward step by step.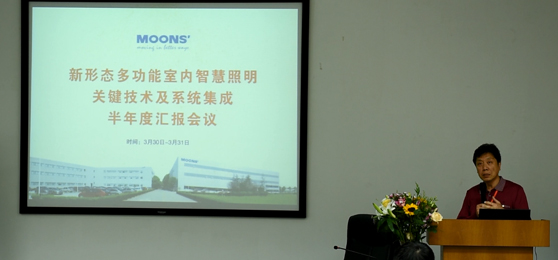 Jian Song, Leader of the Project Group and a professor at Tsinghua University made a summary