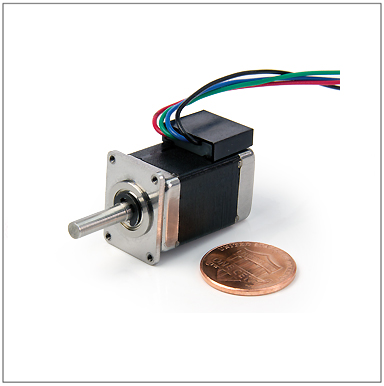 106 Series Hybrid Stepper Motor
Frame Size: NEMA 06,Step Angle: 3.46°
• Just 16mm wide (NEMA 6)
• 104 steps per revolution (3. 46° step angle)
• Available with gearbox or integrated lead screw
• Precise 0.9 degree per step movement with <25 arc-min backlash gearbox
• Up to 2.1 oz-in (1.48 N-cm) of holding torque without gearbox
• Up to 8 oz-in (5.65 N-cm) of holding torque with gearbox
• Up to 8.0 lb (4 kg) of vertical force at 0.3 in (.76 cm) per second with gearbox and 1 mm lead screw.
• Capable of high speed operation up to 8,000 RPM
We're excited to annouce our smallest hybrid step motor.
Contact Us for More
Features
Specifications
With a GEARBOX
Our new PT106 Hybrid Step Motor measures just 16mm (0.63") in width. In the past, this frame size was only possible to achieve with a less accurate, and less powerful permanent magnet (PM) motor.

PT106 offers all of the benefits of a hybrid stepper, and none of the drawbacks of a PM motor. PT106 outperforms PM motors in all metrics: it's more powerful, more accurate, offers higher speeds, and wider dynamic torque range.

For instance, a typical PM motor provides only 20 steps per revolution, or a step angle of 18 degrees. PT106 Hybrid Stepper Motor delivers PT106 steps per revolution, or a step angle of just 3.46 degrees. That's more than 4x higher resolution than PM motor. High resolution translates to higher accuracy.

· Just 16mm wide

PT106 measures just 16mm in width, making it one of the smallest Hybrid Stepper Motors on the market today. The NEMA 6 frame size means that PT106 Hybrid Stepper Motor can be designed into challenging spots with minimal allotted space. Spots where conventional hybrid stepper motors could not previously fit. This opens up a far broader Engineering flexibility and the ability to design much smaller equipment.

· Up to 8 oz-in(5.65 N-cm) holding torque

By increasing the step angle from the typical 1.8 to 3.46 degree, we are about to achieve up to 2.10z-in (1.48 N-cm) of holding torque without the aid of a gearbox. This is 70% more holding torque than the closest competing 1.8 degreed design. When paired with our proprietary gearbox, the motor is capable of producing up to 8 oz-in (5.65 N-cm) of holding torque.

· Higher resolution 3.46 step angle

A typical PM motor may only deliver 20 steps per revolution, or a step angle of 18 degrees. In comparison, our 3.46 degree motor delivers 5.7 times higher resolution than a typical PM motor. When paired with a gearbox, the step angle is further reduced to just 0.9 degree per step while maintaining low backlash (<25 arc-min). High resolution translates to higher precision. PT106 offers all of the benefits of a hybrid stepper, and none of the drawbacks of a PM motor.

· High speed operation

PT106 can deliver similar speed performance of a BLDC motor. By combining the 3.46 degree step angle with our low inertia rotor design, we are able to achieve over 1 oz-in of dynamic torque at 8000 RPM without the use of a gearbox.

· Applications

PT106 is a perfect candidate for many applications that require tiny motors, especially in the field of medical devices and laboratory automation. Applications that require high degree of precision like miniature pumps, fluid metering and control, and optical sensor controls can take advantage of PT106 motor. PT106 can even be incorporated into motorized hand tools like electronic pipettes, and other handheld devices where Hybrid Stepper Motors were previously impossible to integrate.

| | | | | | | | | | | |
| --- | --- | --- | --- | --- | --- | --- | --- | --- | --- | --- |
| | | | | | | | | | | |
| Handheld Tools | | Pinch Valves | | Flow Control Valves | | Optical Sensor Control | | Shutter/Aperture Control | | Pump |
Specifications

· PT106 dimensions · PT106 torque curves
With a GEARBOX

• 8 oz-in (5.65 N-cm) of holding torque
• 0.9 Degree step angle
• < 25 arc-min backlash
• Proprietary 50:13 gear ratio

We've designed a gearbox specifically for PT106 motors for applications that require higher torque output. The gearbox increases holding torque of the PT106 motor to 8 oz-in (5.65 N-cm) and reduces step angle to familiar 0.9 degree per full step, while maintaining low backlash at less than 25 arc minutes.

This level of performance was not previously possible with such a small motor.

· PT106 + gearbox dimensions · PT106 + gearbox torque curves · More Benefits

We fortified PT106 gearbox with an oversized bearing capable of supporting up to a 10lb (4.5kg) max axial load.

This allows for the combination of a gearbox and leadscrew to drive linear solutions where normal miniature gearboxes would fail. This larger bearing also improves the radial strength of the gearbox for demanding rotary applications.

In addition, the ingenious Irrational Gear Ratio ensures a longer life as the same internal gears mesh less often creating more even wear.