Skip to content
Skip to navigation menu
ID

DALI Dual Series

MOONS' DALI Intelligent driver is ideal for stage, landscape, Architecture, Agriculture Lighting applications. Dimming two channels on the driver via DALI dimming equipment.
● Input voltage: 100-277Vac, 140-388VDC.
● All-Around Protection: OVP, SCP, OTP, OPP.
● Built-in active PFC function 0.95 Typ.
● Flicker-Free Dimming Across Wide Dimming Range.(0.1%~100%).
● Constant current, 2 channels output, 12V-150mA auxiliary power supply.
● 4 in 1: DT8 Tunable white(1500K~6500K), DT6 Tunable white(1500K~6500K), Solo dimming, Dual dimming.
● 5-year Warranty.
Free shipping to North America and Europe for orders of $100 or more
Buyer Protection:
Free Exchange
if the item has quality problems within 1 year.
Learn more
DALI dual channel intelligent driver is ideal for stage, landscape, architecture, agriculture lighting applications. Different form factors are available for the perfect fit with luminaire. This series operates from 90~305VAC and offer various dimming functions that could be configured by MOONS' patented programmer: Smartkey or Touch Setting Tool.


| | |
| --- | --- |
| Tunable White | Wire Connecting |
| | |

DALI Function
Color Temperature (DALI DT8/DT6)

Solo Dimming (DT6)

Dual Dimming(DT6)

Color temperature (Default: DALI DT8 ):
Using 1 address to achieve tunable white application with DALI type 8

Dim two channels output current with one
DT6 address simultaneously.

Dim two channels output current with two
DT6 address respectively.

Color temperature (DALI DT6):
Using 1 address to dim the color temperature, 1 address to dim the intensity.

Why You Need DALI DT8

During Tunable White solution, compared with normal DALI DT6 driver, DALI DT8 driver has lots of advantages.
| | |
| --- | --- |
| | |
| | |
• For DT8, only need one DALI address to achieve Tunable White.
 For DT6, need two DALI addresses to achieve Tunable White.

• For DT8 Driver, MOONS' design the CCT dimming logic in driver. Users can use standard DALI Master(support DT8) to achieve tunable white easily.
 For DT6 Driver, users need to design the CCT logic solution in software.

As a result, Address saving, Space saving, Manpower saving.

Different protocol between DT6 VS DT8
| | |
| --- | --- |
| MOONS' is the Member of DiiA | MOONS' owns official DALI tester "ProbitLab" |
| | |
| | |
Why You Need Dim to 0.1%
The dimming range has a great influence on the correlated color temperature area.

This figure shows the performance of MOONS' DALI driver (0.1%-100% dimming) on mixing warm and cold color temperature LEDs.

Assume there is a CCT fixture:
Warm White LEDs(2500K) max power=50W
Cold White LEDs(6500K) max power=50W




Driver's Dimming Range
Valid CCT Range
0%, 10%-100%
2500K,

2900K-6100K

, 6500K
0%, 5%-100%
2500K,

2700K-6300K

, 6500K
0%, 1%-100%
2500K,

2540K-6460K

, 6500K
0%, 0.1%-100%
2500K,

2504K-6496K

, 6500K
Operating Logic
Settable Output
Output voltage range: 8~55VDC, auto-adapting according to fixture's Vf.
Output current range: 150~1500mA, can be set via Smartkey or Touch Setting Tool.



200~1500mA: the current operating in continuous mode.
0~200mA: the current operating in PWM dimming mode and the PWM frequency equals 3.6KHZ.


Auxiliary Power Supply

Driver can provide 12V-150mA auxiliary power supply to other device(Sensor, Fan, etc)

Programmable Function
NFC Programming
Cable programming
Model list
Part Number
Output Current Range
Dimming Description
Case Structure
MU050S150BQI511
150~1500mA
Tunable White(DT8/DT6)
DT6 1/2 addresses
Compact
MU050S150BQI501
Slim
MU050S150BQI521
Back feed
MU050S150BQI531
Side feed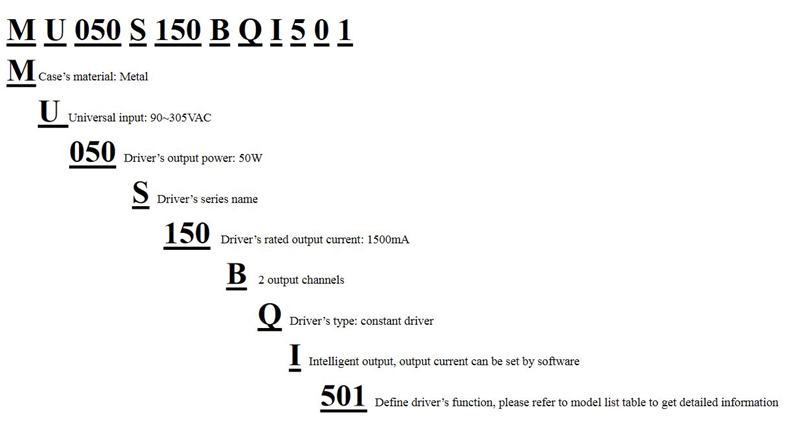 Compact
Wirings on right side

Slim
Wirings on both side
Back feed
Wirings on bottom side
Side feed
Wirings on both side

Delivery & Packaging
Ensure your ordered products are always safely packaged from easy click to fast delivery to your hands
Professional Product Label
Considering all possible harsh application environments, MOONS' specially designed labels for each product, which pass water-resistance test, durability rub test, high temperature resistance and corrosion resistance tests.

Besides, our product labels are attached with QR code linking to product details, which is convenient for clients to view the detail product page with their mobile phones.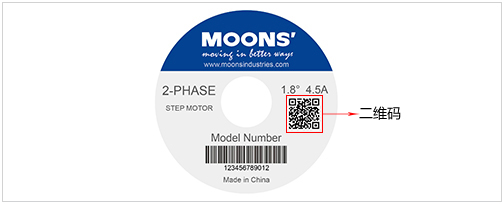 Note: This label design is suitable for products of stepper motor.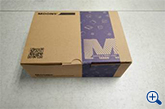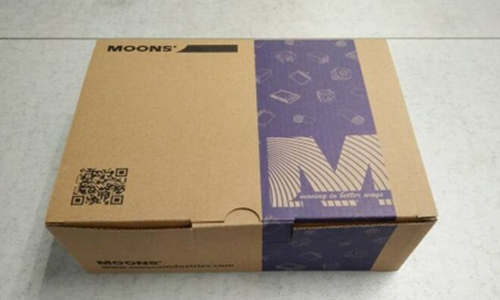 (Professional packing box and unique appearance design)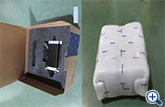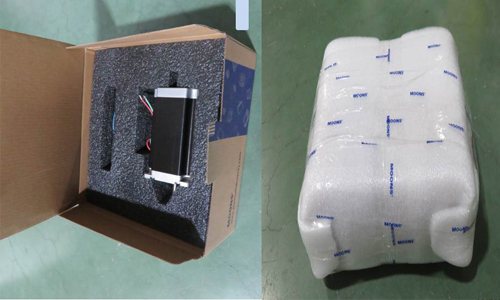 (Single item packed with EPE)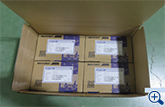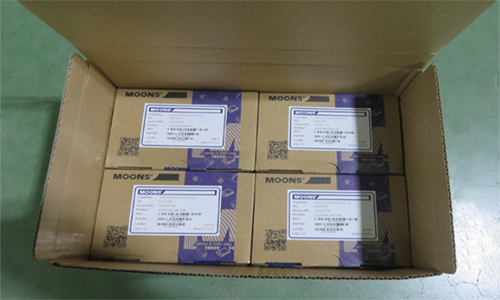 (Multi-products packed with another box)
Safely Packaging
In order to ensure your shipments withstand the long trip and arrive safely and intact, MOONS' specially designed Individual package to pass the drop test with its stable structure.
Besides,the package is made from recyclable materials, providing you with professional safety delivery.
Whether just single item or multi-products the clients buy, all products are packed twice to avoid the damage further.
Shipping Visualization
For each case, products are carefully packed by experienced warehouse staff and the key processes are recorded by photos, which are then posted on our website, so that clients could clearly know the packing process and logistics status after placing order.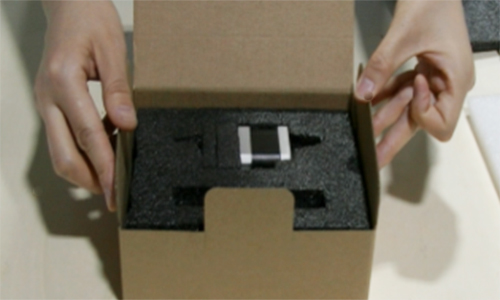 (Product in the box)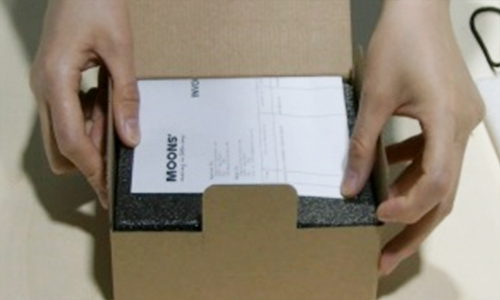 (Add the invoice)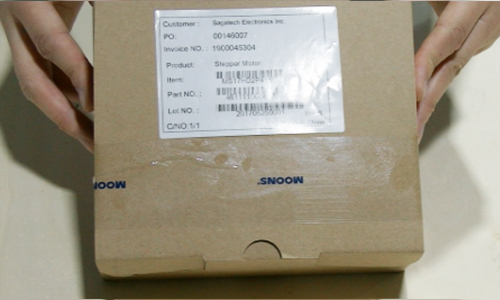 (Label the commodity)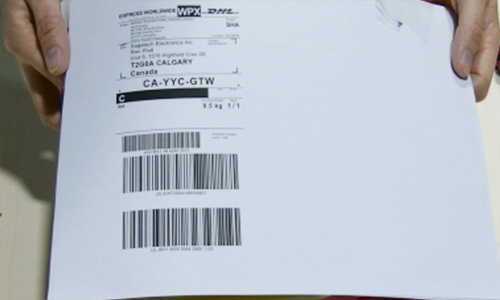 (The logistics waybill attached)

Fast Delivery
Fast Cross-Border Delivery
MOONS' chooses DHL as our main international express shipping partner. As the world's leading logistics specialist, DHL provides our customers with fast and professional inter- national door-to-door delivery service.
Estimated Delivery Time: e.g. China-USA major cities 3 business days.
Professional
Warehouse Management
MOONS' has an experienced warehouse management team, all products and materials are clearly classified and neatly arranged.