Skip to content
Skip to navigation menu
ID

NEMA17 Non-captive Hybrid Linear Stepper Motors

NEMA17, Non-captive linear stepper motor actuators, High performance, Exceptional endurance, Low noise, Highly effective. Multiple options: different size of motors, different types of leadscrews, different types of nuts.
● High performance
● Exceptional endurance
● Ship within 5 business days of ordering
Price:
USD 116.0

-

135.0 EA
* Free shipping to North America and most of Europe for orders of $100 or more
Buyer Protection:
Free Exchange
if the item has quality problems within 1 year.
Learn more
In the case of linear actuators without linear guide (non-captive linear stepper motors), a lead screw nut is integrated into the motor rotor, and the lead screw passes through the center of the motor. As the motor rotates it moves linearly along the lead screw. the lead screw can be completely unscrewed from the motor and can be any length. The motor can be fixed so that the screw moves in out of the motor, or the lead screw can be fixed so that the motor moves along the lead screw. in addition, the unique LNSM series can be compatible with clearance nut and more screw options.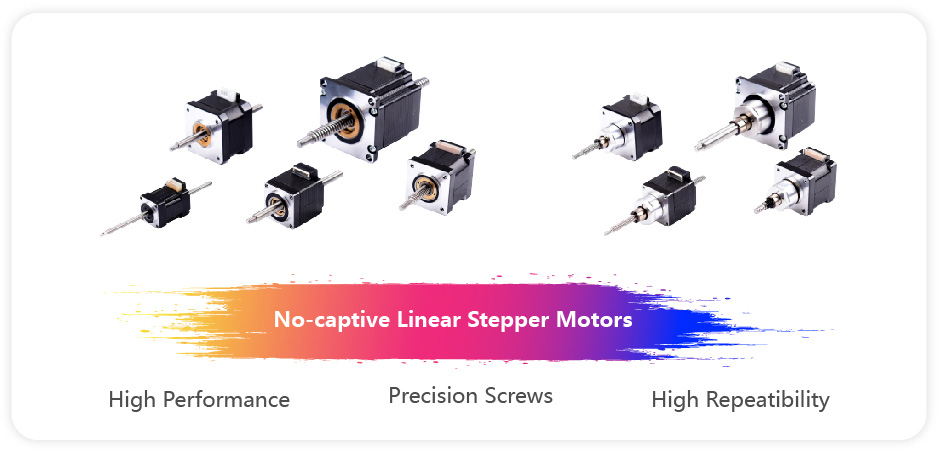 High Performance
The excellent winding of NEMA17 non-captive linear stepper motors design makes the temperature rise of the motor lower and the output torque is greater; the excellent structural design makes the motor longer life and better heat dissipation.
Precision Screws
MOONS' works with leading providers to source high-precision lead screws. With screw diameters up to 10 mm and lead starting at 1mm/rev, the linear stepper motors can be customized with a wide range of stroke lengths, leads, end machining.
High Repeatibility
The repetitive positioning accuracy of the lead screws and the standard nut of the linear stepping motor is ±0.05, and it can reach ±0.02 with the anti-backlash nut. Ideal for applications that require precise positioning (such as feed, pick and place, axis setting, etc.) and force control applications (such as clamping and tensioning).
Once you have chosen your type of linear stepper motor, you can use the article number to check whether the desired product meets your requirements: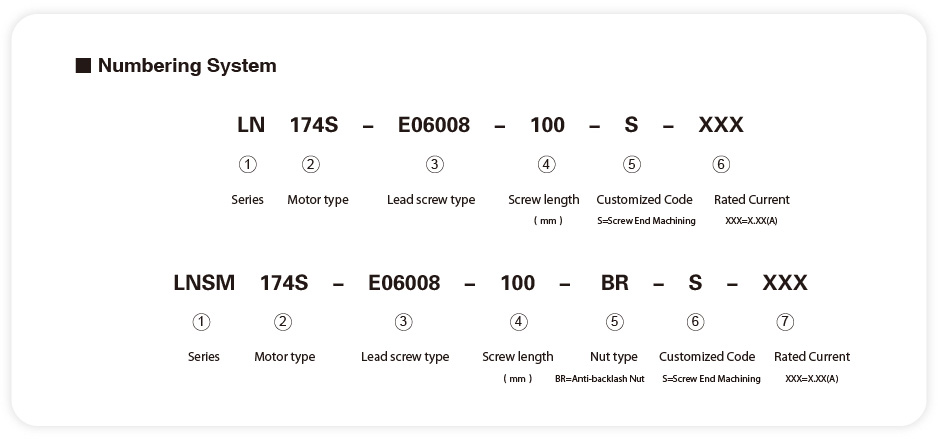 LN Series Standard Models for stock
Size
Motor Series
Lead Screw Options
Screw Length Options
End Machining Code
Rated Current Options
42*42
LN174S
-
W0601
-
80,90,100,110,125,155,
170,180,210,250,300
-
S
-
065,100,150
E06008
E06063
E06127
LN172S
W0601
100,150,200
E06008
E06063
E06127
LN176S
W0601
100,200
E06008
E06063
E06127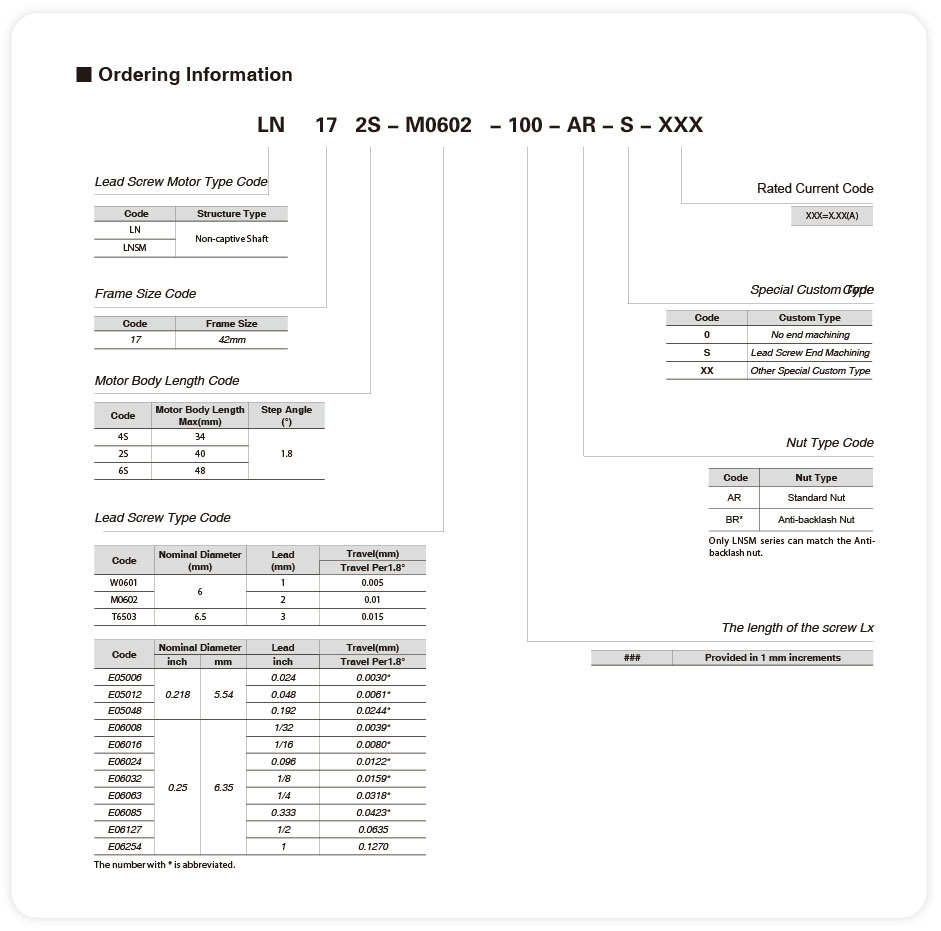 Speed-Force Reference Curve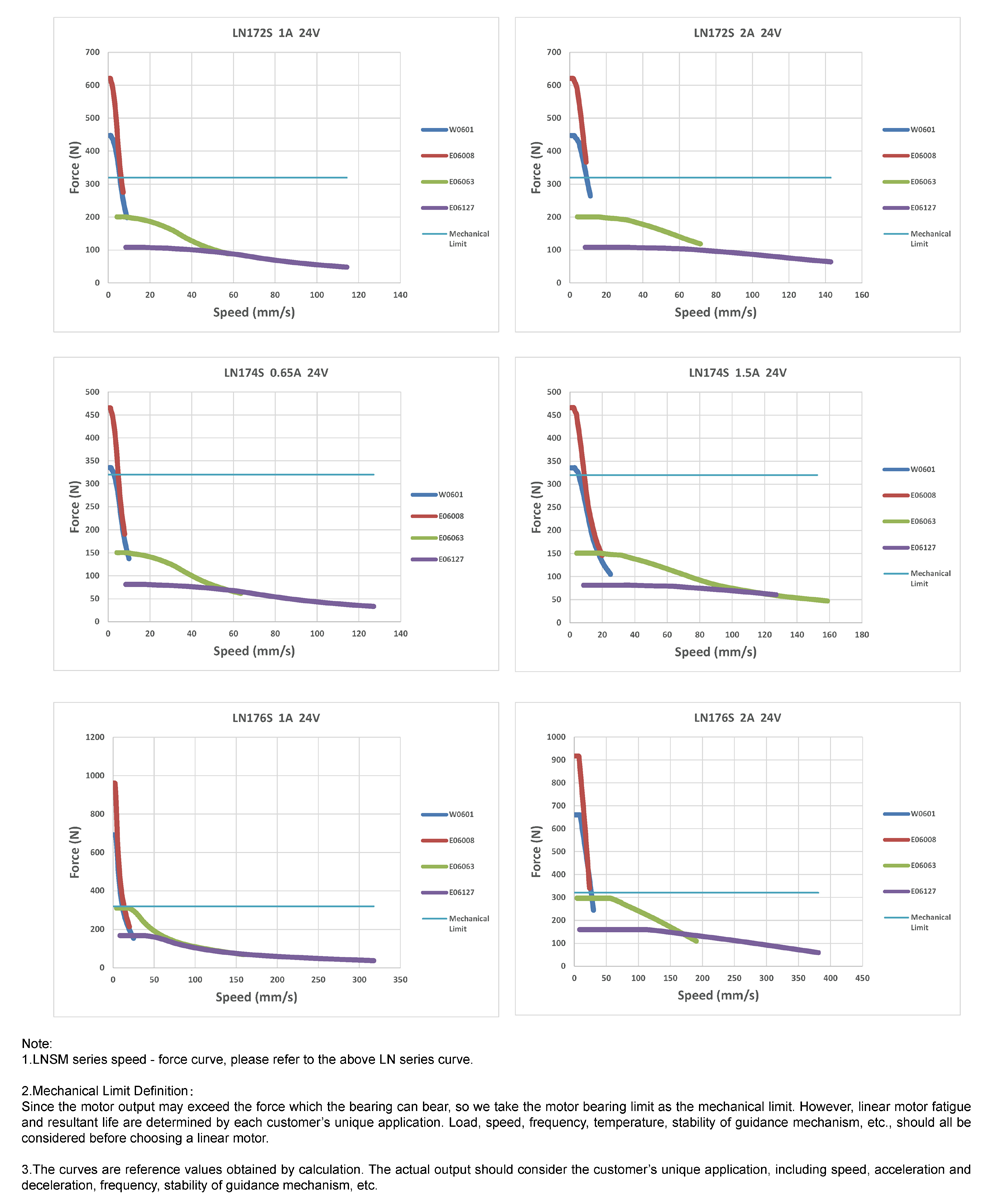 unit:mm