Skip to content
Skip to navigation menu
Satellite Communication Equipment Applications by MOONS'
Satellite Communication Equipment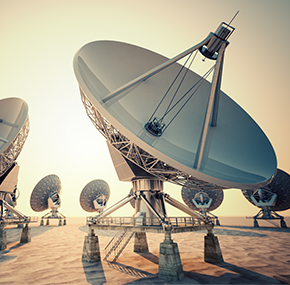 Telecom industry includes telecom service and telecom manufacturing. The latter involves 7 kinds of equipment, which are switching, access, transmission, mobile communication, microwave communication, data communication and satellite communication equipment respectively. MOONS' motors are primarily applied in mobile communication and satellite communication.
Since radio frequency (RF) has developed into the most leading and potential telecom manufacturing tech around the world, active/passive RF adjustingaccessories provide integrated solutions for radio communication infrastructure and base station RF system.

The telecom products discussed in this article mainly refer to Base Station RF System and Satcom on the Move(SOTM), which includes satellite antenna in automobile, ship and airplane.
MOONS' motors applied in satcom on the move realized the function of pitching and polarization.

MOONS' motors applied in base station RF system realize the function of phase shifting and composite filter. Driven by the promotion of 4G technology and wireless Internet business, MOONS' has developed relevant technology and products in response to achieve service improvement and extended market scale.



• Operating Temperature:-40℃ ~ +80℃
• Salt Spray Level:96 hours
• Structure:Sealing
• Operating Speed:Low speed, low duty cycle
• Performance:Suitable for high-low temperature shock and harsh environment
MOONS' provides excellent motion control services & solutions to promote the rapid growth of telecom technology by means of extensive experience, strong technical support, standard design process, and reliable assessment of craft, quality, and lifespan.

17HD Series Anti-corrosion Motor
• Step Angle: 1.8°
• Output Torque: 0.6N.m
• Dimension: 42X42X42.8mm
• Salt Spray Level: 96 hours
• Applicable Environment:
Salt spray
High humidity
Corrosive environment
Condensation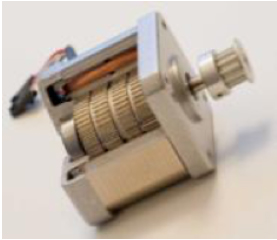 High IP rating can't solely solve severe condensation problems, and that's why anti-corrosion motor is designed.
24HS, 17HD Series Stepper Motor
• Step Angle: 1.8°
• Dimension: 57X57mm;42X42mm
• Holding Torque: 0.6N.m~15N.m
• IEC 60529 standard
• Low inertia, high torque
• High dust and moisture environments
• Including NEMA 23 and NEMA 34
• Customized service
| | | | | | |
| --- | --- | --- | --- | --- | --- |
| Frame Size(mm) | Rated Power(W) | Rated Speed (Rpm) | Rated Torque (mN•m) | Peak Torque (mN•m) | Series |
| 42 | 30~90 | 4000 | 72~215 | 144~430 | 42BL |
| 57 | 60~180 | 4000 | 145~430 | 290~860 | 57BL |
| 80 | 100~300 | 4000 | 240~720 | 480~1440 | 57BL |